The Blueprint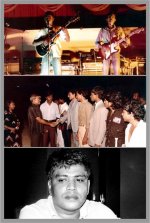 Mon, 11 Jan 2016
After the Golden Jubilee Carnival (1977) Majeediya School continued its rock fever and several new bands sprang up; among them, remarkably, Flu Nashid with Metronome 40. In 1981, Majeediya produced a series of rock concerts performed by these bands; Hot Fiesta, Stiletto, Revolution, Crackers, The Triotones, Allied Forces, No Limit, Pluto and many more. These rockers came in a time two legends passed away; Bob Marley and John Lennon. It was a cultured time of stage concerts played live and watched by a live audience. Though television was introduced, live telecasting was impractical, no trend into recordings, no deejay and no karaoke. It was a time when musicians tried to do replicas of the original versions whether Eric Clapton, Santana or Gary Moore. The method of picking songs and music was painstaking – rewinding and listening repeatedly to those flimsy audio cassette tapes in a non-digital world. In the cream of a music era Xray Athif was able to found the rock band with a bunch of school leavers that took its name "The Blueprint" (proposed by Bambukeyo Hassan who played for Allied Forces at school) and joined the commercial bands like Amazon Jade, Quicksand, 20th Century BC, etc. doing gigs in the resort islands.
When we started in 1984, Athif was the Head Radiographer in the X-ray Department of Central Hospital, Ahmed joined as an assistant technician, Shahid joined Addu Development Authority and I worked at Civil Aviation – Hassan and Ali just freewheeling two guys. Athif procured music instruments under a commitment from a prominent business figure, Mr. Gasim Ibrahim, who was running the Olympus theatre at that time and possessed these instruments for a group called "Samaa" which played mainly Hindi music. He was indeed a generous person who allowed us to do practices at the Olympus backstage with a stack of gas canisters from his trade. The band obtained three guitars; a Fender, a Yamaha and a Fender Jazz Bass, a Juno 60 Yamaha keyboard, a standard drum set, one saxophone, two original twin reverbs, a Roland PA system and other accessories. The band members were Ahmed Nashyd – guitar and vocals, Ahmed (Chuckberry) Shahid – guitar and vocals, Ali Manik – keyboards, Hassan (Bambukeyo Hassan, Bunty) Manik – drums and Naval Ahmed – bass guitar. Born with a group of fans always lagging in the backdrop, their names usually end with 'John' or 'Johns'. Mustafa was appointed as the sound boy, supervise boat movements, packing and unloading, connecting wires, tuning guitars and stabilise power, assisted by Shafiu in almost every occasion. Mustafa later played keyboards in the band called "Neighbours" for many years.
The Blueprint gave the first performance in the "Concert in aid of the Hospital Fund for free Medicine" that Athif organised in 1984. The band played UK chart toppers; Careless Whisper – George Michael, I Just Called To Say I Love You – Stevie Wonder, I Don't Wanna Dance – Eddie Grant, etc. In the rush of time music took in for disco, rock, funk, punk and rap, rock bands survived and 80's proved successive to all those genres. It's appropriate to say this country was seeing progressive times, unmarred by politics though it remained a hidden fact, people enjoyed life, changes in lifestyle and fashion grew to wear afro hairdos, half-cuts, sunglasses and Jackson gloves. This band did pretty well, signing autographs on costumes, also highlighting a prediction from the late Mohamed (20th Century BC) Zahid, "The Blueprint will see its time in two years." Ali joined shortly after the first concert and he was appointed the band leader with his expertise in electronics besides belonging to a famed musician's family – his uncle was the late Bayla Manik. We embarked next on seeking the tourist resorts market.
They were great contributors to the band; people who gave opportunities for us to play in the resorts, people who supported the band, people who organised various concerts and mostly the fans. The band started its commercial venture playing at Embudu Tourist Village in October 1984 and Bolifushi Island Resort was the first charter, soon covering the north and south of Malé Atoll. It went on for two years almost maintaining a routine playing four nights a week during peak. Considering the fact they do powerful vocals, some 300 songs in our repertoire, keeping daytime office duties, two sessions of practices, crossing the seas on two or four hour journeys regardless of the weather and playing three hours non-stop, sometimes even longer, count the load of weight every bandsman carried in consistency. And always the bar sales go up and the bands are in demand, in no time deejays and karaoke got introduced. 1985 New Year venue happened to be Makunudu. Every moment was unforgettable, whether in Furana, Velessaru, Lankanfinolhu, Helengeli, Nakatcha, Kurumba, Olhuveli, Rannalhi or anywhere – the winds across the channels of Lankanfushi and Vadoo seem restive. Most of the resorts have changed their names ever since. The Blueprint also played local contracts and some significant gigs during the yearend rituals.
The Blueprint was registered under Valencia Football Club, one of the venerated football clubs in the country and in fact Maldivians have a feverish trend for the sport. Valencia organised "Happening" concerts where The Blueprint actually made their finest appearances. Those indoor concerts staged at the Olympus theatre came up with meticulous planning and motivation for entertainment, for show, designed to an authentic audience. Lot of attention was paid to produce a creative masterpiece in every aspect, in presentation, sound balancing, stage decorations and light settings even with insufficient equipment in hand. Other significant open stage events took place in a series of "Fannanunge Show" and exhibition compounds.
The band members were unwilling to do recordings. Meanwhile other bands got into the production of videos and soundtracks. The band faded leaving behind no proper video image or an impression. We managed to get involved partially in recording the theme song "Fidha" (also the title of the movie produced by Television Maldives in 1985) with Ahmed (Bo) Waheed and the composer, Daniel. Few opportunities we had got eliminated somehow. For instance, The Blueprint was to appear in a scene of "Yusuf and Zaineb" (the very first full screen movie) and the band played that very night on the spot at Iskandar School however, I disapproved the cast with an outrage. In the two years that followed Athif enjoyed doing a couple of songs with the band during the live shows and on island gigs.
With the band's first assignment we shifted the gear to Ali's place on Marine Drive with a breeze of surfer waves and the sight of jumbo jets landing in Hululé. While the band reached commercial heights and in popularity some coincidental mishaps took place. On 3rd March 1986 we heard news of a Tri-Star Air Lanka flight destined to Maldives blown at the Katunayake Airport while passengers boarding. Tamil Tigers were behind this act of terrorism. Two fatal victims were Ali's mother and his younger brother. The Blueprint pays deep respect and condolences to Ali's family, the Seashore Family who gave us so much support and they remain close to our hearts.
The band moved to the practice room at Athif's place, Dhilkushaage. The Blueprint story remains incomplete and untold as it ends somewhat sadly. Presumably, following President Ronald Reagan's drug offensive campaign and to polish a reputation, police carried out a high profile raid on the night Argentina played against England in the World Cup – Mexico '86, in the month of June. A series of raids followed, two band members were taken into police custody along with hundreds of others and associates. The two members were sentenced for possessing narcotics.
The Blueprint gave the final concert in the "Happening" show of 1986 opening with Say You, Say Me – Lionel Ritchie. With three original members, the band did Purple Rain – Prince, some music written by Ahmed Nashyd who later contributed in creating the Dhoni album and made his appearances with Zero Degree Atoll. Shahid composed and sang Time To Say Goodbye dedicated to the two members in detention. After the band Shahid managed to produce an album of instrumentals playing saxophone. The band was short lived and split up precisely on the eve of its second anniversary.
Tribute to Hassan (Bunty) Manik, most famously known as Bambukeyo Hassan, who followed Stewart Copeland and turned into a freelance drummer, appeared on many stages and a strong advocate to bring about political change to the country. He passed away in 2008 in Malaysia. I express my condolences to his generous and beloved family and on behalf of the band. Hassan will be remembered as one of the finest drummers this country had ever seen.
The Blueprint may not be recollected since a generation has passed but there is nothing to regret about a band that brought a revolution to rock history, stimulation and drive, the drag image and freestyle rocking knocking out some of the old bands with surprise. New bands that came up in the aftermath revolutionised in programmed music, Siemens kits, tech and applications, introduced new methods of traveling light and the resorts maintained their own bands and instruments, deejays and karaoke. With a booming visual image market and showbiz the nation flung into new levels of a digital era.