NOW I'M SIXTY-FOUR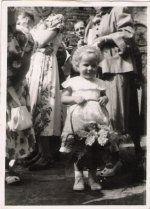 Sun, 16 Mar 2014
2 likes
I'm getting older, grey in my hair
Slimmer then than now
Every year you still send me a nice valentine,
Birthday flowers, some bottles of wine.
I can stay out til quarter to three
But fall, exhausted through the door!
Do you still need me, can you afford to feed me
Now I'm sixty-four?
You are ageing too!
But, if the truth be told -
I'm older than you!
Still fit and randy, blowing my fuse
Your mojo hasn't gone;
I could be knitting sweaters by the fireside –
But I'd go nuts! Let's go for a ride!
I love my garden, though it's full of weeds
I should get out some more!
Glad you still need me as my boss has freed me
Now I'm sixty-four!
Every summer we would rent a cottage near the Isle of Wight
Now it's much too dear;
Though we scrimp and save
To treat the grandkids on my knee –
None of them called Dave.
No need to argue, we understand fine
Each other's point of view;
Still we're finding plenty to discuss each day,
Enthusiasm's not wasting away!
Are you still my toyboy now my figure has gone?
Mine for evermore?
If you still need me, I'll go where you lead me
Now I'm sixty-four!