When Barry Met Larry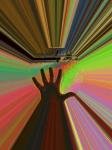 Tue, 08 Apr 2014
"Hello, stranger. How you doing?
Only thinking, the other week –
not laid eyes on you for ages,
and now look who I meet!
They told me what the matter was; 
you know how people talk,
but I had to say I'd guessed it
from that telltale way you walk.
My dear old dad, God rest his soul,
had the self-same thing, you see,
but he never made a thing of it, said, 
There's plenty worse than me.
That's true enough, but hand on heart, 
I don't mind telling you, the Lord himself
knows how I'd be, if I got the damned thing, too.
Still, sure as summer follows spring,
life carries on the same, and you have to make
the best of it...Say, don't it look like rain?"
"It sure does, mate, and I have to say,
it's great to see you, too. Mention Parkinson's
to most folk, and they haven't got a clue.
Take my hat off to your father, would have liked
to shake this hand; the pun was as intended.
Your dad would understand. Can't say the same
for Tesco's; upsetting and frustrating... 
fumbling at the checkout,  couldn't miss 
what folk were saying...
Disgusting's what I call it...this early
in the day. It's this twenty-four hour opening; 
the government's to blame. Can't string
two words together;  blighter's drunk, right enough!
No...it's Parkinson's, madam, 
and I'm sober as a judge!
Die inside, just a little, yet
with stiff, upper lip – quip,
I do so beg your pardon.
What I don't do is 'quick'.
So I bid them a good morning –
them with egg on their face.
Well, you have to laugh, don't you?"
Beats crying, any day.