Toady of toad hall. (a warning to children)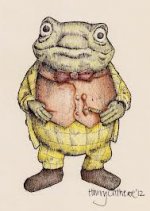 Wed, 30 Jul 2014
And now on bbcitv1234 Jackanory.
(Intro music) 
(Titles)
fade in
(Enter Sir Ian Mckellan sitting on a large red leather back chair)
Hello children; its story time, and today's story is called Toady of toad hall.
(more music Then fade )
Once, there was a toad called Toady. He was not an ordinary toad. This toad had the best of everything. He was given the best education, that the nation could give, the best prospects any one could ever have and the best opportunity that money could buy, all paid for, by the rats. 
However Toady could not turn away from his nature. He was sadly still, very much a toad; and being a toad, he lusted after everything he saw. He gobbled up the money, which he gave to the rats, he gobbled up the petrol, and gave that to the rats too, he gobbled up all he could get his slimy little hands on and gave absolutely nothing to the poor. 
With all this money and power, Toady built a huge house for himself and the rats and let no one in, ever; even If a poor person, came knocking on Toady's door, just for a mere scrap of food: either a lump of old hard cheese, or a slice of mouldy old bread, Toady would hit them on the head with a large heavy shovel and then send them off to a place called Leeds, where there high barbed wire fences, large brick rooms and men in dark grey uniforms, who had cold dark hard faces and nasty sharpened teeth, and who stomped about a lot with large black guns. In fact, It looked very much like a place I spent some time in when I was in the X men series of films, when I was playing the character of, oh sorry, i'm wandering off a bit, now, where was I, Ahh, yes:
One day, Toady saw a big rocket. Now, Toady lusted after the big rocket and spent a huge amount of money that he stole from everybody else in buying the rocket, so he could show it off to all his neighbours and boast about how powerful he was. But the big rocket didn't change anything; because Toady was still nothing other than a huge, ugly, fat ,greedy toad and nobody liked him: No, not one little bit. 
Eventually, the rats who had spent their money on Toady got fed up pretending to be nice to him, so they took his house away from him and because Toady had no friends Toady found himself kicked out of his huge house and all alone, with not even a mobile phone for company. 
Unfortunately the rats didn't know how to look after anything, especially the big rocket. They only thought about the short term gain for themselves and this naturally led to a huge squabble, which eventually led to one rather nasty rat -with blonde hair- stupidly pressing the button and the whole house exploded with a great big bang, and that, as they say, was the end of that. 
So children, if you see Toady coming over to you, even for a little chat, just remind him of the rats and he'll soon go away.
That's all for today children. Tomorrow's story will be how Toady stole all the gas and made the land all dried and dead. Goodbye.
(lights fade)
(End music end credits)