Journey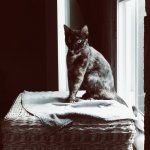 Wed, 17 Sep 2014
*Notice. This is a work in progress and is unedited*
I can remember it clearly. Not a single lingering side thought could
make me forget. My heart races at the mere thought of it. It was
November 4th 2012: The day my journey begun. A day of
senses and emotion. A soundless expedition into life.
I especially recall that Sunday morning sent. The sort of smell you get
when way out oceanside with that misty haze hovering inches above the
sand. Sending invisible waves of beauty and sunshine to let you know
that "today" is going to be a good day. As if to say that even if
it were to rain upon your head. That even the smell of the oceanside
sand and the haze could simply calm the senses with ones ability to
breathe. With the ability to stand with your hands above your head
freely with no gun pointed your way nor even near. With your natural
ability to smell. To sense. To know. And to smile.
Well, to bad I don't live anywhere near the ocean. Where I live the weather
never really seems to make up "its" mind. It can be sunshine and
rainbows one minute. Then cats and dogs the next. A sort of array of
"rainbowy" weather I would say. The sort of randomness one
expects to see when entering high school halls for the first time.
You never really know what to expect or whats to come. Whether around
the corner from those who walk side by side next to you or maybe from
those who always pass by. A sort of "eye to eye" without even
making a single effort to look.
Oh. Where was I ? Oh yeah! I was reminiscing of the sent from that
wondrous Sunday morning. I remember that sent as perfectly as one can
count the fingers on one hand or perhaps even how a gentleman holds
the door for a lady or child or even couples of all ages as if
kindness were second nature. That sent, of that day, to me at least,
had to have been the most interesting start to any journey. To
wakeup, and just smell all the life around you. Almost like real life
magic, minus the weird outfits and sayings and trickery of course. A
true living illusion. One my senses will always recognize.
Now what I remember most. Is that of "her". The one that made this
journey of ours as she would say "electrical". "her" the one
who let my rained on love into the warmth of one thats rather warm.
The one who kept my love safe. That kept my love away from stormy
days. To be as fair as can be, and to continue to tell this tale. I'd
rather not say her name. Instead, we'll go by a single letter.
Random? Perhaps. You may think "Psshh its probably her first name
or last." I state this. "Perhaps". As for the letter. We'll go
with "M".
Now imagine driving down an open road with houses crowds apart. Imagine
that each house seemed as that of as in a movie. Often new and "too
well kept" almost fake like I'd say. Imagine each driveway either
that of perfect asphalt or that of cracked concrete. Imagine the
lawns. Close cut and personal with the land. With a blemish here and
there. Whether a weed or a flower. Imagine. Picture the road with
only room for two cars. One of that that drives towards, and that of
one that continues forward. A road often bare of those who drive. A
road with a single painted yellow line traveling what seems an
eternity. A road where when you do drive will be a road with only
noise of that of the birds and bees that hover, that hum, and that
sing. A road where you may just see more than a single deer prancing
about between houses crowds apart. Imagine this. For the image you've
pictured, that you've imagined. Is where this journey begins.
Now take this setting you've crafted. Now choose a home and put your mind
outside. Where the moon hovers above with clouds sparingly spread
throughout the snow globe sky. Where a fire roars yards behind. Where
children play and race and run about. Where Mums and Dads sit on deck
talking adult talk and drinking adult drink. Where a swing set goes
only swung by a single child. One years older than the rest. One with
wavy saxophone coloured hair and brass button painted eyes. A child
turned teen. A child fifteen. A girl we'll call M.