pub fight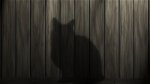 Sun, 29 Mar 2015
An ordinary day, evening, sathurday, drinking time. A cat walks into the pub. The black beard bartender sssts her out, but the cat stubbornly stay still. All eyes are looking at her, not all of them friendly, whispers hearing from the dark: "throw her out!", but the cat remain relaxed in the same place, licking her tail.
All eyes were moving now to the bartender, who sssts a couple of times, but with no effect and remained helplessly behind the bar. Stir among customers, which stand up now unhappy, ready to leave the pub.
"What in the name of Suliman, it's the problem?", the bartender asked, cleaning noisily a glass.
"Can't you see? It's a black cat in the middle of the room!", all of them yelling scared.
"I don't see any black cat in the middle of the room...", the bartender answered, after faking a look arround.
"So, that means were are all stupid? Isn't it?", some of the pints found their end in pieces and that was enough..., the bartender grabbed the broom and started sharing it in all directions.
Next day news, front page: "The sailors pub was torn apart by a cat!"