Pick a Colour...Any Colour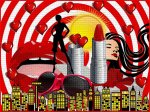 Sat, 18 Apr 2015
Each day that passes
she dies, a little bit more.
A girls' night out – just
like  old times; only not.
That was before...
The truth, as she sees it
hurts; cuts deep...deeper
than any surgeon's knife.
Mirror in hand, switches it around
to the forbidden side – larger than life.
Half opens a drawer; caresses
a brush and comb, redundant, right now,
as they lay.
A tasselled scarf rasps – pulled 
from the back of a rattan chair...
green with blue stripes;
winds it, turban style,
around her head. Pinches 
her cheeks but the pallor remains.
What?  No rosy apples today?
A mother's words, come back
to haunt her; passed away
last autumn...
a lethal cocktail of
arrogance, ignorance 
and realism.
Look on the bright side, though, kid.
Life's a bitch, but the beauty of it is,
it don't last for ever.
Pick a colour, any colour
you fancy, child, and as they said
in those bad old, good old days,
a little bit of powder
a little bit of paint
makes a girl's complexion
what it really aint. 
Lipstick... rouge?  When it all
boiled down to it, was this  really
what she'd meant; 
red 
or dead?