Bathing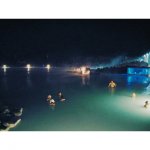 Mon, 13 Apr 2015
1 likes
Take in the kitsch candy colours
of the Blue Lagoon,
limpid aqua pools, backlit,
like pictures of Jesus or Elvis,
frilly lime algae floats, languid,
gazing up at a pastel sky,
the perfect postcard framed by lava,
liquorice black against the snow.
Inside the Nordic building,
take a ring-side seat,
smooth-skinned honeymooners,
buffed and toned to
reproductive perfection,
soak in soft-focus bliss
behind a film of steam.
At the quiet end of Reykjavik
strip in the municipal changing rooms
scrub under scalding showers
with the others -
slack breasts, scars, flab, folds -
the many varieties of body gather
together, in the biting cold
to share the delight of outside bathing
in water warmed by the earth,
a gentle plash, takes us back
to our first baths, and surrender,
back further, to our first beginnings,
we slide in and recognise
that undercurrent of longing
to return to warm water.