Judith Walker's Holiday 1830 - 1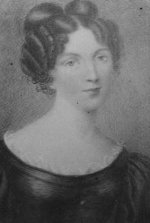 Thu, 14 May 2015
May 20, 1830
York
Now that my children are all grown, I have time to travel to see them, and also see more of the country. I have bought this journal to annotate my travels this summer. I am intending to spend time with my eldest daughter, Maria (Mrs. Edward Cox) who lives in Liverpool, and then will plan my onward travels from there. My son, Charles and his family live in Stockton. My daughter Mary Ann (Mrs. James Thackray) lives here in York, as does our youngest son, Edward, who works at the Rope and Twine office with my husband John. But my other children, Jane (as yet unmarried) has moved to Dudley in Worcestershire, and Henry and George (both married with young families) are now residing in Worcester. I see Henry fairly often as he travels for his company – which produces leather goods, gloves in particular. But I have yet to see my newest grandson, George's son, Charles Simpson Walker, born last October. He was named after me, (unlike my other grandchildren) as my maiden name was Judith Simpson.
I will continue this after I have consulted with Maria, and can see if she is prepared to accompany me.
June 5, 1830
Liverpool
Here I am with Maria and her family at 24 Soho Street in Liverpool. Her husband Charles Cox is a cotton broker, and he follows in the footsteps of his father, George Cox. They have two sons – Edward Walker (following in the tradition of giving the first child the mother's maiden name) who is nearly four and Charles Hudson who is just over a year old. Maria has a very active social life, and keeps in frequent contact with her brother-in-law, Thomas, and his family. I have been told that Thomas Cox's daughter, Mary, who is 22, (pictured above)  might well be of a mind to travel with me to Worcester. She is loosely affianced to William Holt, another family with which we have close friendship ties. William is currently in London, at the offices of Taylor and Roscoe, just having qualified as a solicitor. Mary has always been a good friend to my daughter, Jane, so I am sure she will be pleased to see her again, if she comes with me on this trip.
Maria says that William is not of such stout constitution. She thinks his health is delicate, and the air of London probably does not agree with him. She thinks his studies will injure his health, and what with both acting upon his constitution, she thinks he might well go into a decline.
I asked my son Henry to find out from Mary's father if he thinks it likely she would like to go, and I have heard in the affirmative. Her mother also approved the idea. So I intend to invite her for tea today, so that we can make our plans final.
Later that afternoon
Here is a record of my visit with Mary.
"How pleasant it will be for me to have you accompany me on my journey to Worcester. I was thinking that we should lose no time and go on Thursday, if the weather permits.. Have you been there before?"
"No, Mrs. Walker. It will be my first trip. I dearly hope that we will be able to visit with Jane as well."
"We could have an overnight stop in Dudley on the way. That way we would arrive at Worcester on Friday morning, rather than late in the evening on Thursday"
"That would be splendid."
"I have checked into the coaches, and think we must attempt to get the 5.45 one. I know that seems very early, but it is a long journey, and if we caught the next one at 11 we would have no choice but to break our journey"
"I am sure that the early start will be fine for me."
"Are you a good traveller?"
"Well, moderately so. I do get worried by sea crossings, but a coach trip should be a lot more pleasant. Where do we pick up the coach?"
"At the Bell. Tell me Mary, how your sister is now. I understand that she has been quite ill over the winter and spring."
"Yes, we really feared for her life at one stage. However, she has made a good recovery. Father recently took her to Nottingham, where they visited with his parents, but he has now returned, as you will know. My brother is in Wales, so we are all scattered."
"Which brother is this?"
"George. He is the main traveller now for Father's company. The other traveller has left, and George has taken his place. He just got back from a month in the North and Scotland. He sailed from Greenock and they had terrible weather on his return trip. I let him in and he looked weather beaten and very ill. They had had a dreadfully rough passage and had been 48 hour coming. They were obliged to put into the Isle of Man for five hours; he was ill and sick all the time he said, but overall he was pleased with his journey."
"How long will he be in Wales?"
"About three weeks. We had hoped that Father would go into Wales instead of George on this occasion – to give poor George a bit of a break. Father has been ill as well, with a dreadful cold. I never remember him looking so ill as he has done recently. In fact, he appears to look so much older that my heart aches often when I look at him. But Father needed to stay here as Mr. Yates, his partner, is away and it is necessary that he should attend to the house at the Breck."
"I had heard that Mr. Yates is to be married soon. Do you know anything about it?"
"We understand that he will marry Miss Crompton, who is sister to his brother James' wife."
"I heard that you too may be married before too long."
"We have an understanding, but nothing official has been said yet. William will be in London for at least another six months."
"Do you hear frequently from him?"
"Oh yes. When he first left, we had agreed to write every other week, but now we seem to write to each other at least two or three times a week. I have given him my address at Mr. Henry Walker's house in Worcester, so I am hoping there will be a letter waiting for us when we arrive. And I also would hope that there will be one here on Wednesday before we leave."
"Do you get along well with William's family?"
"I scarcely know them. I am friendly with his cousins, the Boultons. I do think that his mother has something against our getting engaged. She doesn't acknowledge me when we meet, and we haven't been properly introduced, so I cannot approach her directly. Someone thought perhaps she felt we were too young to be married, but we are both 22. Surely that is old enough to know one's mind."
"I agree with you. My husband and I married young. In fact, I was only 16."
"Goodness."
"As you say, when you have found the right person, and know your own mind, there seems little reason to delay. Perhaps Mrs. Holt is worried that William might be distracted from his starting in his law career if he were newly married."
"Perhaps that is that. I did see her and Mrs Boulton the other day coming up Renshaw Street and they both looked much as they usually do, but I scarcely dare look at them."
"Isn't Mrs. Boulton related to your William?"
"Yes, she is his sister, Theodosia. They were married earlier this year. They are first cousins. They are currently staying in Hope Street. Their house is getting painted so they are out of the way."
"Well, I hope the situation with Mrs. Holt will soon be remedied. Now, let's think more about our journey. I expect we will take some side trips, as a month is a long time to fill in one place. Make sure you bring some pretty gowns for if we go to Cheltenham Spa, everyone will notice what you are wearing. And you will need some substantial clothes and shoes if we are to walk in the Malvern hills. And bring some sewing and books to read – as there will be times when we just sit outside in the garden and entertain ourselves, I am sure."
"I will take the shirts I am busy making for Ned. But I must admit that my eyes are giving me some trouble when it comes to both sewing and reading. Backstitching tires them a good deal, and so I don't sew much at a time and am as careful as I can. And with reading, I can only manage half a dozen pages at once. If I read more I should soon have tears running down my cheeks."
"Have you a book at the moment?"
"I am reading Adam Hodgson tour through the United States and Canada. I find it exceedingly interesting."
"You must bring it with you, and you can tell me about it during our trip."
"Well, I must be off, but I will see you bright and early on Thursday at the Bell. Our coach is called the The Magnet and here is our schedule as far as Birmingham."
Liverpool - Birmingham, daily 05:45 Liverpool 06:40 Prescot 07:500 Warrington 09:150 Northwich 10:00 Middlewich 10:35 Sandbach 11:15 Lawton Gate 12:00 Newcastle under Lyme 13:00 Stone 13:45 Stafford, the George 15:00 Cannock 17:15 Walsall, the George 19:15 Birmingham, the Albion
118 miles, 13 hrs 30 min, 8.7 mph.