Two weddings in Marple - 7 Mary's dress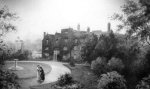 Thu, 23 Jul 2015
January 22
Hollins House
Now that I have completed sending off the invitations, I must spend some time writing down the other things that must be done. I will start with what we have already accomplished.
I should put down here about our visit to Kendals, and success with buying gowns.
Mary couldn't find anything suitable for the wedding itself, but they have agreed to make one from a pattern that she picked, and promised it would be ready by the beginning of March. She has chosen a ivory silk faille for the fabric. The bodice fastens by lacing in the front which is drawn through eyelets. The bodice is boned and form fitting. The sleeves are 7/8 length. The neck and sleeves are trimmed with Brussels lace. The bustle is created with metal stays in three rows from below the center back waist to the knees. The cathedral train is separate. It is trimmed on the inside outer edge with a row of dust ruffles called a balayeuse.She also got ivory wedding slippers, the white gloves, the silk stockings and a wax headpiece.
Mine is a black silk brocade dress comprising front buttoning bodice and separate paneled skirt. The bodice has a round neck with small stand up collar and fastens with ten silk covered buttons down the centre front. The skirt is gathered and tucked at the waist. I shall wear my lace cap, as I always do, but in honour of the wedding I shall attach a pink bow to the front of it.
Jessie's dress, which was ready made, is a lavender Princess sheath garment without a waist seam with bodice and skirt cut in one. It has a very tight fitting bodice which is almost corset like. Very uncomfortable I should think. But Jessie is pleased with it. The fabric is brocade, the lower part has Spanish lace trim.
The Congregational Church is booked for the service, at 12.30 p.m.  and the Union Hall for the reception and tea following it. Services are supposed to be held in the morning, but we are considered just about all right at 12.30.
We will have the band play a few songs at the reception, especially, "On the Road to Mandalay" and then I thought it would be nice to ask the Maple Hand Bell Ringers to do a few songs too. I think that Henry Wild might be the person to contact for that. He plays in the band, and also the bell ringers, along with his wife, Sarah. They are already on the invitation list.
We must decide on the menu for the reception. I will ask Mary, our cook, about making the cakes.
We must decide on the flowers for the church and the Union Hall. I have asked William Richardson of Holly Cottage to see to the flowers. He is a gardener, and also a helper in the coffee tavern. So early in spring, we are very limited, but we have decided on large sprays of apple and cherry blossom for the altar, and some early daffodils for buttonholes. Mary and Jessie can have hothouse flowers for their bouquets. I only wish we could be sure that the lilacs would be out, but it is very early for them.
I've discussed with both Mary and William what music will be played and sung during the service. I know the band will want to play during and after the reception. William has said they will march around the town and then end up at the house an hour or so later, and no doubt expect another cup of tea.
For the service itself, Mary wants the church organist to play Abide with Me, when she comes down the aisle. Then during the service, Jessie will sing a solo, All People who on Earth do Dwell, then the congregation will sing, Amazing Grace, and Beneath the Cross of Jesus (which since it is still Lent, we felt was appropriate) and after the service, Mary wants to march out to Onward Christian Soldiers.  During the reception and walk-around town, the band will no doubt play the usual Salvation Army songs that they know so well. Mary has requested a John Philip Sousa march or two, to add a bit of lightness to the occasion.
Later when the family got together, here are some of the things we talked about.
"Oh Mary, I heard the other day that there is going to be a sale of clothing at All Saints in the near future. I have looked out some of my old dresses, and I dare say you and Jessie could do the same. Obviously keep any that you think would be suitable for Bernice, that aren't too worn or out of date. You will need space in your wardrobe for all your new dresses."
"Yes, Mother, I'll do that later. I'm sure I will be able to throw out half a dozen or so. Here's Father just come in."
"Busy with wedding arrangements, I dare say," said Thomas.
"Yes, Thomas, and what have you been up to today?"
"I went to the meeting at the Norfolk Arms - you know, I told you before. Rev. George Collins from Charlesworth was being publicly criticised for dereliction of his duties. We certainly made sure that he understood where his fault lay.
"Then I went to the Atheneum in Compstall for the Cooperative Society meeting. They have done well and were giving business dividends of 10d in the pound."
"That doesn't sound much."
"Not to us, but to the poor people, that is worth an extra loaf of bread, pound of butter and pint of milk, at least."
"How did the meeting at the Union Rooms go on Monday night? Was there a good turnout?"
"Yes indeed, we had a fine talk about life in Norway, and we were all inspired to go there. It sounds a wonderful way of life, and beautiful scenery. And surprisingly, for as far North as it is, the climate seems to be very moderate."
"Who provided the entertainment, Father?"
"Well, Jessie, I think it was your friend Ann Hodgkinson who played the piano, and also that little girl from Wyberslegh Hall - you know, her father runs the farm there. What is she called again?"
"Do you mean Margaret Cooper?"
"Goodness, I don't believe we invited the Coopers to the wedding. Luckily I have some invitations left and will do that tonight. Who all are in the family?"
"The father is John, the mother, Mary and their other child, Joseph is a pupil teacher, I believe."
"Are they related to the Bradshaw-Isherwoods, since Wyberslegh Hall belongs to their family?"
"I don't believe they are unless they are related to the Isherwood branch."
"What exactly is the relation between the Isherwoods and the Bradshaws?"
"Indeed, it is the Bradshaws who are traceable back beyond the sixteenth century, not the Isherwoods. The Bradshaws may be gentry, but they did not become landed until 1606 when Henry Bradshawe, who had lived as a tenant at Marple Hall and Wyberslegh Hall in Cheshire, bought both properties from his landlord.
"The Isherwoods did not enter the picture for another 170 or so years, when Henry's great-great-granddaughter Mary married en secondes noces Nathaniel Isherwood of Bolton-le-Moors in neighboring Lancashire. Nathaniel Isherwood was certainly not gentry, coming as he did from a prosperous family of felt manufacturers and therefore "in trade." Mary's son, also Nathaniel, married a local heiress, Elizabeth Brabins of nearby Brabins Hall, who was always known as Moll. The younger Nathaniel died without issue and it was his parents' second son, Thomas, who assumed the name Bradshawe-Isherwood upon becoming head of the family when his elder brother died."
"Miss Allen made us learn the poem about Marple Hall (pictured above)  in school, and I still remember it, " added Jessie. "By the way we should invite her too. Her full name is Miss Louisa Allen, Principal of Ladies College, and her brother Edward might come too. He is a Commission Merchant, and they both live in Mellor. Here is the poem:
High on a craggy steep there stands,
Near Marple's fertile vale,
An ancient ivy-covered house
That overlooks the dale.
And lofty woods of elm and oak
That ancient house enclose,
And on those walls a neighbouring yew
Its sombre shadow throws.
A many gabled house it is
With antique turrets crowned
And many a quaint device, designed
In carvings rude is found.
"Have you been inside, Father?"
"Oh, yes, several times for meetings over the years. It has dark, colour-washed walls hung with Elizabethan and Jacobean family portraits, and plain white plaster ceilings. Most of the furnishings are very much of the period and of good quality without being particularly distinguished.
"There are, however, a couple of very well preserved early-eighteenth-century tapestries depicting classical subjects, which came from the Gobelin factory and were signed by de la Croix and de Blond, tapissiers royaux to Louis XIV."
"You know what happened to those tapestries?" I put in. They were moved to the Drawing Room and with total disregard for their history or value and one of them was cut to to fit around the fireplace. I don't know if it was Thomas or Mary Ellen who organised it."
"He had to show us his favourite bit too, the obligatory array of weaponry, complete with suits of armor, and stags' heads.
"Back to what we were taking about before, the meeting at the Coffee Tavern, I meant to mention to you, Mary, Miss Wainwright sang and she asked to be remembered to you."
"Do you mean the daughter of Joel Wainwright, the man who lectures on birds and such like? Should we invite them to the wedding too? He works for Strines Mill - accountant or some such."
"The more the merrier. He is a very pleasant chap."
"Can you give me their details?"
"His wife is called Betty, and his daughter is called Louisa," put in Mary. "I haven't seen her for ages. They live on Hibbert Lane, and their house is called Fernlea."
Oh what a lot of work planning a wedding is!