That White Man In The Corner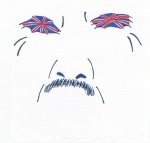 Fri, 28 Aug 2015
I had never met a man like him before. I met him in a pub called the Mucky Duck. It is half way between Manchester and Boarhead. There was one woman, two men and a dog in the pub when I walked in. The woman was in her late sixties, with unkempt grey hair. She wore a sleeveless studded denim jack and a short black leather skirt and was swearing at a mop that had been left leaning upside down near a table, 'How could you take him away from me, you slut? You've had more pricks in you than a second had dartboard, and If you come near my Bill again… '
She turned to me and slurred, 'Taxi?'
I shook my head.
The dog, a big overweight hairy creature, lay in the middle of the room. It lifted its ear and flicked a tired glance at me. A telephone rang in the bar. The barman, a small round man with an impressive beer belly, answered it. Putting the receiver down he shouted across to the woman, 'You're Taxi's outside, love.'
She ignored him.
'Husband left, her then?' I asked.
'Yeh,' he replied, 'twenty years ago.'
'Pint of bitter, mate,' I asked.
As the landlord pulled my pint, a car bleeped few times outside, and then an Asian man walked into the pub saying, 'Taxi for..'
On seeing his fare he stopped mid sentence and looked at me. He pursed his lips and shook his head and I pursed mine and nodded.
After the woman and the driver left, I noticed the landlord had put two pints in front of me. I said to the barman, 'I only ordered one.'
'I know,' he replied taking a five pound note from me. The other's for old Bill over. Do me a favour and take it to him, tell him it's from Mary, she just left.'
Taking my change, I picked both pints up and went to Bill. He was sitting in an alcove, close to a window.
'A pint for you, mate, it's from Mary?' I said putting the drink on the table.
'Much obliged chum?' he said turning his head towards me.
He had no eyes. No eye sockets. But thick eyebrows, that were neatly trimmed.
'Everyone goes quiet when they first see me,' he said. 'Sit thee 'sen dawn.'
'It's not like that,' I lied, still standing.
'So Boardhead City's about to get into the premier league then?' He asked.
I sat down opposite him and replied, 'A draw next "ll do it, we're unstoppable.'
Bill chuckled, 'At least no Pakis in the team, mate?'
Before I could respond, my mobile rang. It was my friend telling me he was running late.
I replied in Punjabi, 'Let's meet somewhere else, this place is dead.'
Pointing a finger at me Bill shouted, 'Get away from me you black  bastard.'
----
My new novel, You're Not Proper - two girls struggling in a town seething with Islamophobia: http://www.hoperoadpublishing.com/youre-not-proper