Brightest and Best of the Sons of the Mourning?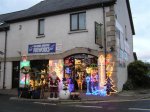 Thu, 29 Dec 2016
In the yard at the rear of Oakshott and Underwood, 'Understanding and Sympathy at your time of need' (or, as Archibald Thurble once memorably amended it 'We Shift Stiffs') the proprietor of the Funeral Directors', Josiah Oakshott, was lovingly and carefully polishing one of his fleet of gleaming funeral cars. This was, by no means, one of his responsibilities. He just rather enjoyed taking a brief break from his usual concerns and indulging in this mindless but ultimately satisfying activity which gave him a great deal of pleasure. Pleasure that instantly disappeared at the sound of,
"Uh, Mr. Oakshott?"
The unmistakeable noise of an approaching Archibald Thurble clearly indicated that Josiah's peace was about to be shattered by one of his usual, and persistent, concerns. Josiah sighed deeply and turned to face his tormentor.
"Yes, Archibald, what can I do for you?"
"Egbert says you've taken down my Christmas window display!"
Egbert, in Josiah's opinion, really ought to mind his own business.
"I regret that is, indeed, the case Archibald and I am sorry that I did not have the time to discuss the matter with you before my action. I must say, I was surprised to find that you had taken it upon yourself to update our window display at all."
"Ah, well, I think I've found my forty, Mr. Oakshott!"
"Your forte? Have you indeed, Archibald, and what might that be, pray?"
"Oh no, it's nothing to do with religion" Archibald shook his head vigorously and tugged at the sleeve of his cheap dark suit, a sure sign of excitement or agitation in Josiah's experience. "I'm into Marketing."
"Marketing? Is that so? I was unaware you had studied the topic, Archibald."
"Oh yes, I've read articles. Well, I've read an article…and the title of another. My mum says that I've got a real flair for it" Archibald said, proudly.
"Yes, I'm sure she did. Tell me, Archibald, would this new-found yen for the arcane practices of Marketing have anything at all to do with Mrs. Bartlett suddenly springing up and yelling 'Bingo!' during yesterday's service?"
"Ah, it's funny you should mention that, Mr. O., 'cause I was reading as how every business should have its USB"
"USB? My understanding, limited though that is, was that USB stood for Universal Serial Bus and applies to something technological that I do not pretend to understand. However, we do have our own fulsome supply of P.C.s, laptops and the like, so I would imagine we already have our USB, if not several?"
"Perhaps I've got that wrong!" Archibald conceded, "It's summat about having something that no-one else has got"
"Might I venture, Archibald, that you refer to a USP or unique selling proposition?"
"Do I? Oh, right. Well, one of them, anyroad"
"How does this relate to Mrs. Bartlett?"
"Now that's what I was coming to. You know how we see some of the same faces, week in, week out, at every funeral?"
"It is true that we do appear to have a coterie of regular attendees, for whatever reason"
"Well, I thought they ought to be encouraged, 'cause it fills up the pews when there's not many there"
"A laudable concern on your part, Archibald, although I am not entirely convinced that it falls within our remit"
"Well, that article what I read, it says you should 'encourage repeat trade by promoting loyalty to your brand via targeted marketing strategies'"
"Did it, indeed? And how does this theoretical concept manifest itself in actuality?"
"You what?" Archibald tugged his sleeve repeatedly.
"How did you apply this idea?"
"Oh, well, I thought about how newspapers get you to keep buying them…"
"Hmm, a useful analogy, Archibald, go on"
"So, I gave bingo cards to all of our regulars. When the vicar announces the number of each hymn…"
"It all becomes clear to me now, Archibald. As much as I admire your undoubted initiative and, I can assure you, I have no desire to crush your entrepreneurial spirit, nevertheless, I think this particular promotion is somewhat ill-advised and must be withdrawn forthwith"
"Ohh!" Archibald responded in the time-honoured tradition of a scolded toddler.
"It simply is not in keeping, Archibald. Not to mention the fact that it gave the Reverend Chapman one of his turns"
"What about my window dressing then?"
"Ah, yes" Josiah sighed, "I'm glad you mentioned that"
"All the other shops have a Christmas display" Archibald pointed out.
"Indeed they do, Archibald. However, we are not as other shops. We do not tout for trade, nor is Christmas different, in our profession, from any other time of the year, except that our clients may well need more support and understanding at such a poignant time"
"No fairy lights then?" Archibald asked, glumly.
"No, Archibald, although, oddly enough, the fairy lights were the least of my concerns"
"It's the crib scene, innit?"
"Well, not to put too fine a point on it, yes it is. Not that I have anything against nativity scenes, per se"  Archibald looked puzzled. "In and of themselves" Further puzzlement, "In general!"
"Oh, right, so I can put it back then?"
"I fear not, Archibald. To be honest, the problem with the scene emanates from the nature of the crib itself. Because, it was not a crib as such, was it Archibald?"
"Well, no, not as such" Archibald admitted, reluctantly, "I made it myself, it took ever such a long time"
"And a fine piece of workmanship it was too, but that rather misses the point, because it was a …" Josiah waited patiently for Archibald to complete the sentence.
"A miniature coffin" Archibald muttered, indistinctly.
"A miniature coffin! That is correct, Archibald. Tell me, did you have any concept at all of just how macabre a scene would be presented to the passing public by the sight of the Infant Jesus, lying in a miniature coffin?"
"I put the animals around and everything!"
"I appreciate that, Archibald, but that simply evoked the impression that they were, for whatever reason, attending a doll's funeral. We have had complaints, Archibald. Quite a number, in fact, even in the short time that your regrettable tableau graced our window"
"Pity they haven't got nothing better to do" Archibald grumbled.
"In some ways, Archibald, I am inclined to agree with you and yet, in others, I have to say that my faith in the basic good taste of the great British Public has been, to a certain extent, restored. That so many people should take offence at your depiction gives me hope for the future"
Josiah stood back and admired, for a moment, his polished handiwork. Then, tidying his cloths and polish into a wooden carry-case, he set off back to his office and the task of responding to the slew of complaints littering his desk.
"Alright, I'll tell you what, forget about the nativity" Archibald was at his shoulder as he progressed across the yard.
"Would that I could, Archibald. Regrettably, there is considerable correspondence on the subject that I have yet to address"
"No, what I mean is, how about summat else?"
"No, Archibald"
"I was thinking about a fairy on top of one of them urns perhaps?"
"No, Archibald"
"Alright, alright, how about some reindeer pulling a little hearse?"
"No, Archibald"
"Santa then? Santa on a…on a…" Archibald's mind raced, furiously, "on a cross!"
 Josiah stopped and stared at him for a while.
"Have you any idea how many people that concept would offend, Archibald?"
"Not really, no"
"Nor have I, Archibald, and I have no wish to find out. Santa on a cross, indeed! Next you'll want the three wise men turning up with wreaths!"
"Ooh!" Archibald said, excitedly.
"No, Archibald"
You can find a whole bunch of humorous festive-themed stories in the new collection 'A Christmas Cracker'