COLORS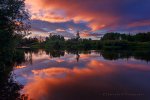 Wed, 22 Feb 2017
before we were together
my poor blood would just run red
but now it runs in scarlet
or a crimson hue instead
.
the sky that loomed above me
was a boring shade of blue
it's now lapis lazuli
and a shade of azure, too
.
the grass that grew between my toes
was just a green, so plain
now i perceive it's celadon
or kelly, i'll explain
.
the sun that shines up in the sky
once yellow, plain as day
but now it's clearly golden
for your love has shown the way
.
you've rearranged my rainbow
weeded out the black and white
and we wrap each other's rainbows
in the dreams we weave at night