Earth and Heaven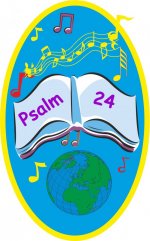 Sun, 14 May 2017
[Continuing the hymn-for-Sundays series]
on Psalm 24
The earth, the world, belongs to God
– and every person, thing;
he formed the dry land by his Word,
so all could live for him.
    Oh, may we know the mighty King
    good Ruler over everything!
The holy place of God we seek,
– his face and righteousness;
salvation's blessing for the meek,
who long for sinlessness.
    Only those holy may go in –
    forgive and cleanse me from my sin.
But what a welcome for the King,
Christ, holy Saviour, Lord;
triumphantly he enters in –
his work complete, adored.
    The King of glory will be known,
    all will one day his lordship own.
(Tune: 86 86 88 eg Supremacy,  or Palmyra, tunes of 'Thou art the everlasting Word')