Beth Tree and the Elgars 2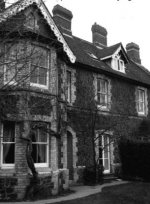 Thu, 15 Jun 2017
Before I attended my first music lesson with Mr. Elgar, in 1896, I questioned my older sisters about what he was like as a teacher.
"He was employed as a violin teacher only originally," said Jessie. "We both learned to play it, but not well and he didn't spare us his opinion."
"He only comes in one afternoon a week these days," said Margaret.
"A few years ago, he worked full time as the music master, and he arranged some concerts.
But we didn't get involved with that, as we were not good enough to be in his small orchestra, or in the choir, " put in Jessie. "I think Misses Woodward, Jckson,  Webb and Holloway played violin , with Rev Fitz Herbert on the viola and Miss Perks on the piano. Of course Mr. Elgar did all the solo work on the violin."
"He has a temper," said Margaret. "You could often hear him shouting from the music room almost anywhere else in the school. But he was very pleasant when he was with Miss Ottley, the Headmistress."
"He wanted to keep his job, I expect," said Jessie. He always went on about how badly done by he was. Apparently he only got 50 free copies of the sheet music for his first compostion that was published. No money for it at all. After that sold well, we would gt perhaps £3 for something that might have taken him months to write.  He obviously gets some  money from lessons – and from the three schools where he teaches, but he gets very little from his main work of composing. And he was often very depressed when one or another of his songs had been rejected, and then you had best stay out of his way as he could be very unkind in his remarks."
"You don't give me much encouragement for these lessons," I said.
"Oh, he will probably be different at home. He always seems calm when his wife is around. But it is so odd, seeing them together. She is more like his mother than his wife. She makes a lot of the decisions for him, and he always asks her opinion about things. And she is so old."
"I have heard she is in her late 40's and maybe even 50's. They have  a daughter, but we hardly ever
see her, as they have a nanny."
"How can they afford that, if he is saying he gets so little money."
"His wife has money. And she should have had even more. When she married him, she got
disinherited by her family."
"Why was that? You would have thought they would have been pleased that she had got someone who wanted to marry her if she was so old already."
"He is a Catholic and insisted on being married in the Catholic church, apparently and his family  were very against Catholics. And they were upper class, and his family were very definitely lower class. His father tuned pianos and sold instruments and music."
"Well they live in a nice enough house."
"It is  no doubt rented because she wanted something like what she was accustomed to. But being a proud man, he probably doesn't want to live on her money – and that is why he is so upset that his work has not been recognised in a financial way."
"I understand he is working on some big orchestra piece at the moment, and if that gets accepted and other orchestras approve of it, it might help his reputation."
Mother came in the room, and we quickly changed the subject, as I didn't want her to know how we had been gossiping about the Elgars.
She accompanied me on the train to their house in Malvern for my first lesson. Mother would be having lessons too, but on this occasion, it would be just me, to see if I could cope on my own.
We sat in the morning room, with Mrs. Elgar, while we waited for the current student to be finished, we could hear in the background phrases which sounded like "idiot" and "wasted". I just wanted to curl up and disappear.
But Mother, noticing that I needed a distraction, went up to the vast collection of photographs on the wall, and asked if one was their wedding photo.
"No, we never had a photo taken at our wedding. It was very small. We only had my cousin William Raikes and his wife Veronica, while on my husband's side there were only his parents and his musical friend Dr. Charles Buck. Our wedding breakfast was at the nearby house of a friend of mine.
It wasn't a proper wedding Mass – as I'm not a Catholic. It was just a short service with just the exchange of the vows and a few prayers. We didn't even have any music."
"But wasn't Mr. Elgar's father the organist at St. George's Catholic church?" I asked.
"Oh, yes, and Edward himself is sometimes too, but this ceremony was not meant to be joyful,
as we were not really in favour, being a mixed-marriage. So they just wanted to get it over and done with as quickly as possible."
"Where did you go for your honeymoon?" I piped up.
"To Ventnor on the Isle of Wight," she replied. "Have you been there?"
"I have," said Mother, "but the children haven't. It's a lovely spot. You must have been very happy there."
"We stayed at 3 Alexander Gardens, and had the whole of the first floor. Mrs. Horspool, the owner put our names in the newspaper, and I remember thinking it made me feel quite famous. Edward did a bit of fishing, and the weather was fine for the whole time we were there."
But now a tearful girl was making her way down the stairs, and I was told that it was my turn.
I walked slowly up the steps, dreading the end of the staircase.
Mr Elgar, who people seem to think was good looking, but I was not one of them, was sitting at his desk, writing something down.
"Sit there," he indicated the piano bench. "Do you know scales?"
I nodded.
"Play all of them with their appropriate chords while I just write a few things down.Just keep doing until I tell you to stop."