Only...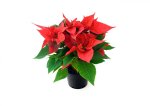 Sun, 26 Nov 2017
I disconnect.
Cut the internet umbilical.
Feel the hot bulge in my pocket
cooling into plastic
and precious metals.
Bohemian Meg
would be horrified
at the implications
of "only connect"
today.
Disconnected? Free!
The fish-hook line between my lip
and touch-screen severed,
I can look around, upward,
smile at younger people
and bellow "bue' dia'"
at the old and deaf
and smiling people
of the pueblo.
Ilusión is a long street
and Esperanza is a short alley.
As though dreams are long
and hope in short supply.
Virtud is a less than clean
cul-de-sac.
We dream or we die,
so my walk along Ilusión
is full of wist and wishes.
I turn into Esperanza
and this hope is short
but takes me into dirty Virtud.
And above the rubbish strewn cobbles
in hanging baskets, are riotous reds
of carnations and unknown yellow blooms
and behind a window is the first poinsettia.
Virtue is found in every dead-end.
My ringtone, an imitation bell
echoing Alexander's invention
breaks the silence and as I
have no answers I make none.
I'm disconnected, today.