Two Halves of Heart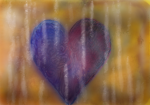 Wed, 12 Feb 2020
1 likes
Two halves of a heart;
Yin to the Yang.
My plenty to your fire-blighted desert.
The shadow, and the light it takes to cast it.
Your blue to my orange.
My embers to your raindrops,
My inferno to your epic flood.
Your murkiness to my glaring transparency.
Your salty to my sweet,
Hunger to my satiation,
Exhaustion to your energy.
Two halves of a heart.
Picture credit/discredit author's own work