Unseen Britain - John Maine's 'Passage'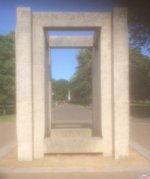 Mon, 25 Jul 2016
This installation by John Maine (RA) is located at the western end of Watts park approximately one hundred metres from the statue of Isaac Watts whose statue is framed in the distance by this piece.
'Passage' was installed in 1996 and gives the viewer four frames to look through towards different aspects of Watts Park. Each frame viewed squarely almost conforms to the theory and mathematics behind the 'golden rectangle'.  This states that the most pleasing shape to human eye is a rectangle based on the ratio of 1.618 to 1.  A rough measurement of the frame in this photo shows the ratio as 1.5 to 1. Despite this slight variation from mathematical perfection looking through 'Passage' is pleasing to the eye.
John Maine spent time in Japan at the Hagi Symposium and in some respects the symmetry of this installation carries some influence from the Torii gates.
Or, if you are not interested in the artistic and mathematical merits of the piece then the bottom parts of each frame form perfect benches to sit on and watch the park life of Southampton go by.