They call me the Portal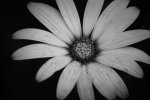 Wed, 07 Dec 2016
"…Blood-shot, your eyes drop,
And the skin's all wearin' thin.
There's no one here to tell you 'bout the depth of the water,
Or the trouble that you're in.
You're dancin' with your demons, baby,
You forgot your former life.
And it was hard swimmin' once
And now you're daily divin' in…."  *
He turned the red block radio receiver is turned off with a click.
The bar itself was large, but empty. As bars usually are at three in the afternoon. It was also unusually dark. the purple flock wallpaper, with its fleur-de-leaf and gold embossed pattern was looking tired, the carpet stained.  It was gaudy, but I didn't come for the ambience. I don't know why I came at all. 
Then the drunk at the bar turns to me. His hair is windswept and white with flecks of a darker colour. His angular face, lined with brown dirty rail-lines, his nose long, though not roman, his mouth moist, his lips full and wide. His teeth yellow stained and slightly protruding between his lips. Yet his eyes had a youthful glint; a sea green blue that glittered with a gentle mirth as he spoke to me; and as spoke to me:  he wheezed. It was clear, that his daemon of choice, alcohol, was winning over his health and as he spoke his sanity. Both he and I were alone, at our end of the bar, so I could observe him in detail.  His blue denim jacket had seen better days. I noted the cuffs were ripped and torn and the jacket in places dirt stained; stained too were his narrow fitting jeans as he leaned on the bar, I could tell it was more for support than for parley. 
        'That's a good song ain't it? An true for me too.  Songs resonate don't you think?  Hell, some resonate so much you don't want to hear them. What's my name? well, Its Drew, though THEY…'  and here he points to the ceiling and around the room '…call me the Portal. A fancy term, and one that I find -I have to say-  is a tad unfair.  Yer see I've become some sort of conduit between the world we see and the world that's invisible, but there… ' He pauses and looks at me with a sideways glance. '…I guess you're a sceptic bout these sorts of things eh? Most people nowadays are. Most people don't want to think 'bout what they cannot see. They even like to think their ideas are their own...'He laughs fruitily at that comment before he continues.   '…It began when I was diagnosed with…but I'll come to that later… and the dreams, and those in them, they led me to him… they told me what to do….but that'll come later too…'
       He takes another long slurp of his beer-
        '…Now…most folks, after spending an hour in my company, think  I'm mad. One beer too many, or one spirit over the edge of reason so to speak. I don't particularly care. I aint long for this world now, so what difference does it make?
        He takes another slurp and puts the glass down.
        'The other night, for instance, that was particularly bad... one that had me screaming awake. He, the shadow man, came through the forest of the night, ripping up the winter leaves, that were blown and scattered in his wake.  His presence, a vast shadow cape that holds the darkness in, is vast in the dream-world… fear and madness just live in him. I-I tried to run away from him, but-but, you-you  can't hide from-from the shadow-man… he knows where you are an he's faster than you…yesum an' in his shroud… he drove me mad.  I could feel…in his presence…I could sense such rage such loathing of humanity as his gnarled boned fingers, slowly pulled at  the vestiges of sanity… being pulled off me… like-like, dead dry skin; and with each pull and peal,  the newer, meaner, crueller me, would come to the surface; while I fought against him with every effort of my will, I also knew I was losin!  Losin, as he stood over me. His formless shade all absorbing, shuddering with a darkness that had no limit before finally forcing me against my will to bow the knee and kiss his evil ring!'
       His eyes glistened then. it was hard to tell whether he was scared for his life or in thankful love, a form of religious thankfulness to whatever it was that had driven him.
        'The angels, they leave me messages… I would have these vivid dreams that usually involved a total stranger; then the angels, they would leave an address, and a name on a scrap of paper, so, I would leave an' find this person an let the angel speak though me. Sometimes it was a message of comfort.  Sometimes not. I've been arrested for it often. But I don't take advantage of people. I don't take their money.  I do what they ask of me. That's all.'
       He coughed a little and a knotty lump of green phlegm spat from his mouth to the floor.
       'What brings me to Newtown?'  He stares at me darkly. It's the first time his eyes really meet mine. 'its my mission? I have to find the Shadow-man, or the human that he is using now, an give him a message from the Angels….yer see, the Shadow man thinks he's above the rest of the Angelic realm. He thinks that he can twist his way through people and get what he wants.  But he is weak. He don't see the greater plan. He only sees the moment and who he can bend to his will. He doesn't see…'  And here he paused. A dark sinister smile, curled upon his lips, the bar we were in became a little colder. The lights dimmed and flickered about the room.
     'Until, of course, it's too late.'
     The open doors around the bar suddenly slam shut at once with a huge and heavy sounding "thwump".  The air became thick, thicker and thicker still.  Dark, heavy and almost impossible to breath. I take a step back from this man, if that was what he is  as he turns to me. His eyes begin to burn with a yellow fire.  His face changes. He changes. The lines on his face recede, the teeth pull in. his hair now becomes a golden tint.
     I pull back away from this being that was slowly transforming, growing and stature, becoming something utterly terrifying to behold.
     'You need to wake up John.'  The being in front of me starts to growl, his eyes flame and his fingers extend into talons.
      I run to the door and try to get out, but it won't open.
      'YOU NEED TO WAKE UP JOHN!'   the being slowly walks towards me. Anger rises in its face. Anger, a cold hunger and a hard determination. I sense a growing dislocation as fingers wrap about my neck.
       'YOU'RE NOT GOING ANYWHERE!'
         I scream awake. My chest aches. I'm bathed in thick droplets of sweat.
      I feel a warm hand reach over to me.
      'mmm bad dreams again hun?' Julia snuggles in.
       -sigh-
      They are so real so real the colour the depth of the images like I'm there I can smell the rooms wherever it is I can feel the images sense their reality like I can almost be in these places yet something pulls me back I wouldn't mind if they were pleasant but they're never pleasant never pleasant at all. 
       -Sigh-
       The clock states 04.35 in large green digital fingers. I pull out my mobile, from under the covers, plug in to you tube and listen to an audiobook.
         Morning rises… the grey turns to a paler grey… the trees all dead fingers, weave in the cool winter breeze. They surrounded by rusted decaying leaves. There is scent of soft loam and decay in the air too. The Verdigris on the trees in large round patches extends around the trunks, its covering like a second skin on the elms in front of me.  Winter is a special kind of death. One that hold no grudges, but simply knows the quality of a good solid sleep.
         I am not going to be myself for days. That dream has really got inside of me, like a worm or a maggot it's buried deep into my soul. I cannot shake it.  Though I try to. It's images crawl like lice to the surface; even now, while I'm out here, in the late to mid-morning of a cold winters day, trying to find solace in the gathering of nature around me, I feel cut up, threatened, separate.
        Julia takes my hand.
        'It was only a dream...' She holds me close. I feel her warmth and he smile in her eye excites me. I hope that she feels the same attraction for me still, even though so much time has passed between us. '…all you can do is learn from it.'  She is right of course she is always right about these things I never doubt her connection to either myself or our children so much wisdom in her almond eyes.
        -she brushes away a tear as the lump in me grows-
There is a certain space for things. They need to be tidied up. Put in their correct order and placed the right way round. This is needed as it's important to me that it is so.  Living in a world surrounded by the dead makes a person mad; the person cannot think… or feel. The person looks out of the window and notes the passing of time as the sun rises, reflects of the spiny trees and falls again.  Blink and you'll miss it.  
      The ghosts and the angels, they slip through in the corner of your eye. They appear as a flutter of wings or a whisper in your ear. They come and they leave a message or two. That's why I believed the drunk in my dream.  He was, is, real; just simply living in another realm; in a place as tangible as this world, where pain, physical and emotional are the only internal messages a person has, to know that they are alive.
       Tell me, why should this be so?  
        After Julia leaves for work, I walk and walk and walk. Carefully exploring the streets of this town, until thirst drives me to a bar called "the Iron stop". Its sign a wooden block with a black painted anvil upon it, is attached to the old thatched roof. It swings in the winter wind. Its windows are ribbed and rippled. They give off a strange yellow glow as if feral eyes glare out from the wooden frames. The double doors, made of oak, seem like a cavernous mouth.  I don't want to enter. But feel myself drawn into it. The door to the bar opens and I step in. I note the flock wall paper in fleur-De-ley patterns peeling off the walls. The barman asking "what will it be" and getting me a Pint of lager to cool my burning throat, as the other door opens at the far end of the room and the drunk now enters the room. He is carrying a block red radio receiver. He looks at me with knowing eyes and slowly turns it on.  The melody is instantly recognised I feel the lump grow and the lady now starts to sing:
"…Blood-shot, your eyes drop,
And the skin's all wearin' thin.
There's no one here to tell you 'bout the depth of the water,
Or the trouble that you're in....
©ADH2016
 * The Builders And The Butchers - Bringing Home The Rain Lyrics | MetroLyrics