Did Satan Issue a Roll-Call of the Scottish Dead Before Flodden?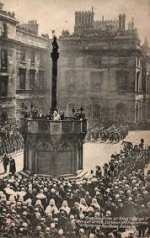 Thu, 01 Aug 2019
The substantial quote below is from Robert Pitscottie's History and it relates how, a short time before the slaughter of the Battle of Flodden, a mysterious speaker turned up at the ancient Market (Mercat) Cross in Edinburgh and read out a muster call of those Scots due to die in that carnage. The speaker, identified us Plutock, equates with Pluto and is most commonly thought to be Satan. However,in my book The Afterlife of King James IV, I wonder whether he is perhaps the king of the fairies. Either way, the announcement is still unexplained five centuries later. Reading it still brings a chill to the spine:
there was a Cry heard at the Market-Cross of Edinburgh, at the Hour of Midnight, proclaiming as it had been a Summons, which was named and called by the Proclaimer thereof, The Summons of Plotock; which desired all Men, To compear, both Earl and Lord, and Baron and Gentleman, and all honest Gentlemen within the Town (every Man specified by his own Name) to compear, within the Space of forty Days, before his Master, where it should happen him to appoint, and be for the Time, under the Pain of Disobedience. But whether this Summons was proclaimed by vain Persons, Night-Walkers, or drunk Men, for their Pastime, or if it was but a Spirit, I cannot tell truly: But it was shewn to me, That an Indweller of the Town, Mr. Richard Lawson, being evil-disposed, ganging in his Galley-Stair foreanent the Cross, hearing this Voice, proclaiming this Summons, thought Marvel what it should be, cried on his Servant to bring him his Purse; and when he had brought him it, he took out a Crown, and cast over the Stair, saying, I appeal from that Summons, Judgement and Sentence thereof, and takes me all whole in the Mercy of God, and Christ Jesus his Son. Verily the Author of this, that caused me write the Manner of the Summons, was a landed Gentleman, who was, at that Time, twenty Years of Age, and was in the Town the Time of the said Summons; and thereafter, when the Field was stricken, he swore to me, there was no Man that escaped that was called in this Summons, but that one Man alone, which made his Protection, and appealed from the said Summons; but all the Lave were perished in the Field with the King.