The Quiet Government Men Chapter 1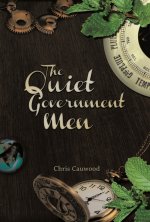 Tue, 08 Jul 2014
'You have a choice, Taylor. Become one of our quiet government men, or remain accused of murder.'
London. Westminster. 2009.
The Environment Minister's personal private secretary leafed through the report before him. He muttered to his assistant,
         'I wonder what his lordship will think of this?'
            'Not invented here, would be my guess. Do you need me? I've got a mile high in-tray.'
            'No, you go. I'll break it to him.'
The Minister breezed in, his charisma on a high setting. The PPS imagined dust and loose papers settling behind him. He suppressed a groan.
            'Three minutes, PPS, that's your lot. I'm nearly late. What do you have for me?'
            'It's an environmental proposal document, Minister. Melting ice caps; weather upsets; the effects of sea level rises on the lowlands… titled –
When the Storms come: Never mind what if, what do we do when?
 - by this man, Cartwright, he is highly thought of, an expert. The P.M. is keen. The Press are running Sunday glossies on it. You may be called on to comment sooner rather than later…'
             'Bah! More green nonsense! Go on, what are these devilish clever plans for the new drowned world? Polar bear hotels? Gardening grants for rainforests in suburbia?'
            'They say we can grow algae in bio tubes, sir. The algae will flourish in the new tropical climate. The climate they predict will descend on what remains of Europe. Algae can make food, ethanol for fuel, and building materials apparently. They say it will seize excess CO2 back from the atmosphere...'
            'How big are these bio tubes? Where will they go if the sea, as they predict, reclaims the land?'
            'They will float on the new inland sea… big enough for an average person to stand up inside, it says here…'
            'I have to hand it to them; they have fabulous imaginations. What else is on the menu?'
            'Well, there's the bamboo for building, thicker than your wrist, grows up to a metre a fortnight. Nettles for clothing…'
            'Bamboo? Nettles? Are we going back to the Stone Age?'
            'Their introduction says both the Kaiser in 1914 and Napoleon in 1805 clothed their armies in nettle cloth. We can eat; we can build with these and other plants; medicine, tea, antiseptics, the list goes on. Do you believe in higher entities, Gods, pre planning, fore-ordained things, Minister?'
            'That's my business but why do you ask?'
            'They say one could be swayed with these two plants. It's almost as if they were a gift, a plentiful resource we ignore.'
            'Hmmm – I'm meeting the Environment Committee this morning, better get weaving. Hah! Weaving! What's the bottom line? Get your assistant to write me up a précis – bullet points and so on, you know. Don't email it, the place is still leaking like a sieve. I'll read it tonight. Right! I'm off.'
***
 No papers floated down but the image persisted. The PPS subconsciously held the file down firmly on the table until he'd gone. Peace. He sat alone, fingered a document that could change the world. He spoke softly to himself.
            'The Stone Age. That's the bottom line; no alternative if we don't adopt these ideas…and we won't. Should I whittle myself a club this weekend?'
He went into his assistant's office.
            'Wendy, see if you can get hold of this Cartwright character for me. Under your hat for now, yes?'
***
Chapter 1
Eastern England. Ten years on.
In an old school assembly hall crowded with frightened angry people, one red faced farmer bawled.
            'What about our livelihoods? What about the animals you've put on trucks and taken away with no compensation? We've been here for generations! They did this to the Scots two hundred years ago!'
            Cheers added to the excitement in the room. Chairs were set out but few sat down. Up on the stage, a group of officials headed the impromptu meeting. A Police chief took his turn to speak. Supporting him were a Royal Engineer Colonel, here to blow up the dam with his two civilian demolition experts, Bernard Samuels and Mark Taylor. On his other side, two councillors and the government agency man. No one seemed clear on exactly which agency. The chief cleared his throat.
            'Ladies and gentlemen, we must destroy the dam to relieve pressure, to save the rest of the area. They built the dam to act as a safety valve. The reservoir water is escaping and flooding the villages all around. You must see the sense of it. The sea will rise and flood you anyway.'
            'You'll destroy the dam over our dead bodies,' shouted the self-appointed leader, shaking his fist to a low roar of agreement.
On the stage, the quiet government man bent to the microphone.
            'These aren't winter flash floods. This is climate change, disaster. Please listen to reason.'
The crowd quietened to an angry murmur, struggling to come to terms with it all. They were a mob, uninformed and frightened. The Royal Engineer Colonel reached for the mike.
            'Hurricane Noah has hit us once already. It is wreaking havoc over Europe just now. It is the culmination of three hurricanes coming in across the Atlantic. A Super Storm, which may swing back any time. We must get our heads down until it all blows over…'
            'What the bloody hell do you know? You're just a soldier,' shouted one woman.
            'I may look like a soldier, Madam, but I'm a civil engineer. I specialise in hydrology…'
            'Madam? Madam?' she sneered.
The quiet man stood again.
            'Please, please, arguing who is who and what they do is not the point. The world is in some imbalance. This is not just a big storm. The North Sea, the oceans, are all rising. We thought it a storm surge like 1953 but this time it does not look like the waters will recede…'
            'And?' said the farmer.
            'We must evacuate you. You are the last few.'
            'So you say, with the news switched off; bloody government!' 'The last lot were bad enough - now this...' said another.
The government man saw bags of belongings lining the side of the hall. Pride stopped them going without a fight, but they would go all the same.
***
They deny the inevitable, Mark Taylor thought. Their livelihoods are finished. It's over.
He sat off to one side near the edge of the stage. A stranger in the village, like most on the committee, he'd watched the storm rage for days, heard terrifying news of power cuts, flooding, refugees, no Internet, and no TV. Then, no more news; his car radio only ran repeated advice to flee to high ground and report to police and army authorities.
            He saw Bernard, head of their demolition company, Demolition Solutions. Sat between Bernard and the colonel was a man introduced as from a government agency.
            What's he doing out here, away from London? he wondered and then put him aside at the lingering irritation with Bernard for renaming the company Demolutions.
***
Taylor saw Bernard trying to catch his eye. He nodded their prearranged signal. Time to break up the meeting, an end to token democracy, these good people would have decisions forced on them, agreed or not. Taylor got up and stepped to one side. The charges were set and wired. A matter of connecting the wires to his box of tricks, setting the timer - the dam would be history. He started to make his way out of the hall.
            'Where's that bugger think he's goin'?' someone shouted. The Colonel spoke into a hand held radio. Half a dozen soldiers forced their way in and Taylor found himself surrounded; bundled out of the hall. He shrank from mean vicious attempts to grab and hit him, some by women. The soldiers fared worst. He admired their self-control and discipline. He was sure he would have lashed out at a few faces. Police officers with clear plastic shields burst in through the double doors and forced the crowd back to allow their exit.
            Outside, he gasped the fresh air. He jumped into his Jeep. Waves of relief washed over him – he was free of the crowd, heaving and pushing, trying to smother him. The last he heard was the Colonel's voice,
            '…we have tried to reason with you. What happens now is for the greatest good of the greatest number. A state of martial law is in force. Transport to safety awaits you. Please leave the hall in an orderly fashion…'
Slamming the door shut, Taylor started the engine.
            Crowds, thought Taylor. Not a "people person", he loathed their sheep like qualities. If we left them to starve or drown, any survivors would blame him and his team immediately they had the chance. Like baby bird chicks – "me, me, me," with their beaks wide open.
***
Peering between smearing wipers, he followed the Army Land Rover's tail lights out of the school grounds and up a small hill to the firing point. Driving past a dozen coaches, sat with engines running, he saw a few resigned but realistic people wiping condensation from the windows. They stared out at him with hollow eyes. Full or not, these coaches would be leaving soon. Many had already left.
The dam was ahead in the rain and dark; he could sense it if he couldn't see it. Below the dam were the doomed fields.
Devil from the government, am I? I'd like nothing more than to wave a magic wand, hold back the waters; turn the clock back, he thought.
He stopped just past the temporary canvas shelter of the firing point and parked facing the other end of the dam.
            'Don't you want to turn your Jeep the other way, for a quick get away?' said the young Royal Engineer corporal, opening his door for him.
            'Bags of time, there's bags of time. There's a fifteen minute delay built in; after your Boss gives the order to blow,' Taylor said.
            They strolled along the top of the dam. Too warm for February, he felt the rain and wind buffet at them. Another flash of lightning; he glimpsed a wide avenue, a boulevard paved with those concrete slabs that allow grass to grow up between the small squares. It reminded him of a similar water near home, designed for pleasant walks for people who liked to see the water on one side and view the landscape of patchwork fields on the other. Demolition cables snaked away, disappearing at intervals down manhole covers. A pleasant place whose time was up, the explosives lay below, waiting to exert massive forces on the weakened points of the dam.
            The army man by his side - was he thinking the same thoughts? - a bright keen active young man who hadn't fallen to the weary cynicism Taylor suffered from these days. They found themselves in a sheltered spot, some freak of the construction stopped the flurry of wind; the acoustics allowed normal conversation.
            'What's going to happen to us? It feels like the end of the world. I joined the Army to see the world. Not the end of it.'
            'I know,' Taylor said. 'You're more likely to come out of this than those civilians. They don't understand. Their lives are shattered already.'
            'You're a civilian, you don't seem to be losing your head; just getting on with it.'
            'I had a few years in the RAF. That's how I got interested in blowing things up. I don't feel like a civilian, even now.'
            Both looked out over the dam wall. Lightning flashed again and lit up the waterlogged landscape. Taylor could imagine, almost feel the solid ground giving way beneath them, washing them away in a frantic helter-skelter to lower ground.
            'I'm Jack, by the way.'
            'Most people just call me Taylor.'
            'How do you do, Taylor.' They laughed at the oddness of the formality. Below their feet were enough explosives to atomise them.
 'How old's this dam? Thirty, forty years? I bet they moaned about it being built. Are you married? Kids?' Taylor said.
            'No, divorced; the other married lads' wives and kids were taken to a central emergency unit, an old nuclear bunker up in the Dales. The Army looks after its own; so we're not always looking over our shoulders, I suppose. Running off to go find them and protect them, sort of thing.'
He looked at Taylor.
 'You?'
             'Yes. Two kids, boy and a girl.'
A clap of distant thunder jarred the ground under his feet; that, or his imagination.
            'Time to go, I can feel the dam giving way already.'
This Jack; Taylor felt he could be a friend. He wished one didn't have to be thrust into dire circumstance to find true people. Taylor struggled with humanity. His major weakness, he often felt he didn't belong here on Earth. He grunted cynically to himself. The weather, Mother Nature, Gaia, the Earth Goddess, all seem to be of the same opinion; we don't belong here maybe.
As they walked back to the firing point, Jack said,
            'I'd want to go and find the family if I was you.'
Taylor didn't answer.
***
He watched the now subdued people from the meeting. Dragging weary heels, they filed aboard the coaches, the red faced farmer included. Soldiers helped shove their bags into the spaces below. He shuddered in distaste.  Some package holiday! He could no more get on one of those buses than jump to his death over the dam. He thought of one of his old friends who had a theory that all people follow the inside of a tunnel in life. Most just went along the tunnel with the rest. Some, a select few, knew the secret hatches in the roof and walked along the outside; along the top. All must follow the tunnel direction. At some time, all must rejoin the others inside.
            Taylor was ready to get out through one of the hatches. No intention at all of going with the convoy or inside the bus / tunnel along with the soldiers or the mob. His spine crawled with anticipated claustrophobia at the prospect. His route home across country was already planned, away from the strangled main roads and the panicking refugees. The Jeep was ready ...t
ISBN
Paperback: 9781910266359 
Hardback