The Terrible End of Invention - (poetry monthly)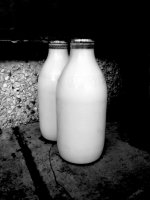 Wed, 09 Mar 2016
All hell broke loose

the day after the day after

he was big enough 



to steal out of the house unnoticed.

First stop - sabotage doorstep

deliveries of 'cow juice' -



and it was Alan I felt sorry for -

no inclination to fight

back at the irate. 



All we could do was agree

it was terrible - TERRIBLE

to find lids lifted, the foreign bodies 



rudely insisted, with grubby digits, 

before carefully resealing the foil. 

Terrible, how beetles must've swam



for a bit with limp worms - soil

still attached about their saddles,

spoiling the purity of lactation,



but why anyone would want 

to slug mild Alan in the gob for it

was beyond me. It wasn't him,



after all, but the boy, being wild -

our first child, that did the terrible deed. 

He wasn't bad; just very inventive,



and though we tried our hardest 

to redirect this wonderful quality, 

even squash it, 



nothing seemed to help him. 

We were told a smack might do 

the trick - tried it once,



to keep bad neighbours 

off his back, poor kid,

but he grew out of it in the end,



leaving us with this disconsolate 

feeling - a punch in the gut

and a troubled heart. Terrible.