Mum, I promise I won't let guilt consume me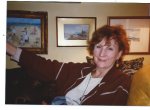 Thu, 26 Mar 2015
We arrive almost together
sit for tea before going up
these are your final few hours
you have lost the ability to eat.
We enter and there you are
I mustn't cry whatever happens
there are people here
and I don't want to upset you.
I take your hand and stroke it
but I don't know what to say
it's been so long coming
my thoughts have turned rotten.
You send a tear down your cheek
one of my sisters applies a tissue
but then we remember you can't see
and she goes running for the door.
We've never really shown our feelings
me and my sisters
but as I look deep into your face
I know you will soon be at peace.
A wave of your spirit races through me
and for a brief moment I am yours
but I fight off the feelings true to form
even now my heart of fear rules.
I have been your biggest burden
you always dreaded I'd die before you
and as your hand presses mine for dear life
I know you're worrying for me even now.
Mum, I blamed you for holding me close
as a lonely child love was a fire in the garden
but you always forgave me then and now
I must do all I can to remember the real you.
I only hope you can see I'm changing into me
I am crying real tears and feeling real emotions
for the first time ever
and it's all because of your undying love.