Looking for Andrew (Journal 5)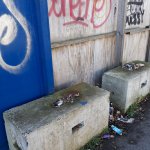 Mon, 15 Jul 2019
The conversation in Sainsbury's goes something like this. There is an alarm beeping and I wonder if Andrew is doing something to make it happen, as he has parked himself too close to the doors.
Is that Andrew setting off the alarm? I ask the cashier. Sorry, I mean the homeless man.
No, it's the back doors. Are you his case worker?
No, just a friend.
He's annoying some of our customers. He's asked a couple of them to buy him food, but then he doesn't eat it.
That's because he saves it, I say.
I've seen him with two carrier bags, going over to the train station.
They're his things – all he's got. He carries them around with him.
He was wearing designer socks yesterday. I keep an eye out for these things.
(God, she's a real Sherlock Holmes).
That's because I gave them to him.
They're clean.
I know, I gave him four pairs.
Oh.
So it seems that Andrew no longer looks homeless enough. Perhaps I'm not doing him any favors by helping him, but what exactly is a homeless person supposed to look like?  I've seen Andrew's ulcerated feet and his wrecked body and I've seen where he sleeps – that's more than enough proof for me that he has nothing and nowhere to live.
When the taxi dropped us back in town on Saturday night, I could have walked back to my warm, safe and comfortable bed, but for some reason Andrew wanted me to see where he would be sleeping.  He told me that his friends would already be there, although when he says 'friend', he just means people who are in the same situation as him.  
As lively gangs of drunks made their way home from the pub, Andrew led me to a darkened porch in an abandoned Edwardian building.  A light came on automatically to reveal two sleeping men. One of them was cocooned in a sleeping bag, the other was just sprawled, as though he had tripped over and fallen asleep before he landed.  The floor was covered with cardboard for insulation against the cold, but there was something incredibly bleak about the scene, there was no warmth or comfort in it.  This wasn't a cosy den; it wasn't like camping.  There is absolutely nothing to enjoy in sleeping rough - it is the last resort of the desperate.  
Andrew spotted that the sprawled man was lying on a yoga mat I'd given him, but which had been stolen from its hiding place behind a wheelie bin earlier that day, along with his precious sleeping bag.  
"That's my mat", he said to me. "I wonder if he's got my sleeping bag?"  and I thought, God, don't wake these people up, they might turn nasty.  Andrew demanded to know if the other man had his sleeping bag and one of the men mumbled, "I don't fucking know."  
Andrew instructed me on how to build his bed for him.  It went like this: cardboard, blanket, Andrew, blanket, blanket, topped with a psychedelic bedspread. Andrew took off his hoodie to use as a pillow and put his most precious belongings on the floor next to his head.  He settled himself down on his side and I placed the last layer over him.  As I stepped backwards, so that the security light would go off, it seemed like a bizarre parody of switching the landing light off, having tucked my own child up in bed.  Andrew thanked me and then we wished each other a good night.
I have been warned about getting too emotionally involved with the homeless, by someone who has worked with them for years and I can see why. As Andrew lay in the hospital bed earlier that evening, wired up to an ECG machine, he said to me that no one can understand what it's like to sleep rough, if they haven't done it.  This is absolutely true.  It is too awful to comprehend, so people don't bother to try. I've seen someone I care about doing it and that's bad enough, but I can't imagine what it would feel like if it were the other way round.  Would I just lie down and go to sleep or would I spend all night begging to be rescued?