The Headshrinkers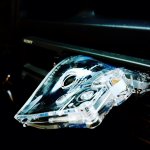 Sat, 07 Nov 2015
When Todd opened the bathroom door and found Nick lying fully clothed in the tub with his wrists competently slit, it was not an absolute shock. Like Todd, Nick had had musical aspirations, but where Todd was an extrovert with his own band, The Headshrinkers, Nick had been a regular shut-in, working and reworking his ballads just for his own satisfaction apparently. With Marlboro lights and cheap lager Todd had coaxed Nick out of his shell. 'Teach me one of yours,' he'd requested early on. He had even got Nick playing rhythm guitar at a Headshrinkers gig one time. Strumming throughout from behind a veil of hair it was hard to say if he'd enjoyed the experience. Improvements in Nick's disposition were followed by severe retreats, and shortly prior to his death he had stopped communicating with his housemates and sat all day staring at a mildewed wall.
Nick's parents drove up to London to collect his stuff. Just before they arrived, Todd looked in on his room, and idly, maybe for a keepsake, picked up the cassette, a recording of Nick's songs, which they had laid down on Todd's tape deck one night, Todd singing while Nick plucked a nylon-stringed guitar. He slipped the tape into his back pocket. And he remembered how, when he had first met Nick, and had asked him his name, Nick had not answered. An eye had peeped out from behind Nick's hair and had scrutinised him; that was all. 'Wicked,' Todd had repeated. Because he hadn't known what to say. That night, at The Enterprise, 'This set's for Nick,' he boomed through the fuzzy mic. The smattering of applause The Headshrinkers received at the end of their adrenalin-charged stomp did not, Todd reiterated over numerous pints, do Nick justice.
Waking to sober 11 o'clock sunshine, lying on his back, fully dressed, Todd felt the nudge of plastic in his back pocket and pulled out the cassette. He got up, in the gloomy kitchen made black coffee (as normal they were out of milk), and, thinking about Nick, pulled from a heap of pens, cutlery, cigarette lighters, fliers and coins on the table a half clean envelope. Nick's songs had a sophistication, he knew. It was far-fetched, but perhaps a producer would take an interest. And in a way Todd felt responsible for Nick. So you won't have died for nothing, mate, he muttered to himself as he slammed out of the house to mail the tape.
Three months later, the call from Slick Records came. Todd caught a red bus down there in his Camden suit, hair artfully gelled, and the best quality recording they'd been able to afford of The Headshrinkers' songs in his bag. The band had put the time in, night after night, jamming to empty rooms. Or not quite empty. It seemed someone had noticed them. Surely their time had come. This phrase was repeating itself in his head as he sat in Jimmy Jones's famous office and absorbed the framed photos of rock gods and golden disks on the walls.
'I won't waste your time,' said Jimmy, affable and pearl-toothed. Opening a drawer, he scooped out a tape and dropped it on the desk. 'Todd, I love your songs.'
Todd looked at the tape. He knew that tape – it was the recording he'd made of Nick's songs. He could see where he'd scrawled his name on the inner sleeve, as he did with all his blank tapes prior to using them. 'Todd,' Jimmy was saying, 'I'm excited. There's an emotional depth here, just what the market's lacking. I'd very much like to work with you on these songs, make an album. What do you think?'
His mouth was dry. Helplessly, he put a hand to his face. 'Yeah,' he said.
The Headshrinkers' first single smashed the indie charts. Their appearance on Top of the Pops in straitjackets attracted a record number of complaints, and fanned their success. Melody Maker dubbed Todd the voice of his generation. The NME followed suit. For a while Todd was snorting so much coke he believed them. It wasn't the composition that was important, he told himself, it was the performance. Those songs were nothing on their own; if it wasn't for him they'd have been buried with Nick. Why complicate? He was doing Nick a favour.
What do you think of the miners' strike? The Cold War? journalists suddenly needed to know. Each call from them he longed for, dreaded. There had been no word from Nick's parents. Perhaps they didn't even know Nick had been a writer. Or if they had heard his work, they'd not recognised it. Nick had an older sister who lived in Brazil. It was paranoia, he knew, in his more lucid moments, but, now he had the money for such things, Todd paid someone to keep an eye on her. For a little while Todd had so much money. He bought a mansion, dated a supermodel, kicked a television off a hotel roof. He hung out with David Bowie. In New York The Headshrinkers were joined on stage by Lou Reed. They toured the album so hard Mick their bassist ended up in therapy. Then came the difficult second album.
The second album flopped. So did the third, despite an assistant hired by Jimmy to help Todd with the writing, and a lush string arrangement. After that, Slick Records dropped them. Diehard fans, beery and lachrymose, would struggle to defend the band's aesthetic choices. The consensus view was that, following Cut Here, that first dynamite album, everything The Headshrinkers put out was crap.
About the time of the third album's release, the press had started to take an interest in Nick. 'I understand your housemate committed suicide,' a journalist collared Todd one morning to query. 'Did that have a big influence on Cut Here?' Behind his Wayfarers, Todd shrank. Cool damp trickled past an ear. 'Sorry, band business,' he said, and staggered away. The Nick question persisted. Students of popular music were discovering in Cut Here's lyrics clear references to his life. Magazine articles were devoted to him, the shadowy figure in The Headshrinkers' story. Holed up in five star hotels, Todd read every one of them. By now he had worn the Nick lie so long it felt like the only thing in his life, the only real thing.
He became notorious for his pronouncements about contemporary music. 'None of the new bands write their own songs,' he'd drop during a radio interview. Or, 'These days everybody mimes.' Because he knew a lie from the inside out he spoke a good deal of truth. He was the lone voice in a bourbon-flamed wilderness, confronting pop moguls at events or dialling them in the middle of the night to rail against the industry's lack of authenticity. Various solo efforts which were heavily talked up never saw the light of day. The Headshrinkers split up, went into therapy, got together again, split up. Todd clung to a tenuous celebrity. It was now so long since he'd released any new music people had forgotten he was a musician. He disappeared from the public eye, resurfaced after a decade in the Big Brother house, finished in third place. Then came a miracle. Bands started citing The Headshrinkers' first album as a seminal influence. Rolling Stone declared it the 14th most influential album of all time. David Bowie, Lou Reed and Bono appeared in a Headshrinkers documentary, testifying to the importance of the band. Todd got booked to appear on The Eddie Flynn Show.
Like a battered 18th century doll which had been expensively restored, he sat under the bright lights beside Eddie's big desk and mumbled his stock answers: the 80s were a blur – all the drugs, girls – 'We were like kids in a candy shop'; 'Xena,' (his fifth wife), 'she saved me'; 'When we recorded it we had no idea Cut Here would become a classic' – according to Rolling Stone, Eddie interjected to whoops and applause, the 14th most influential album of all time. And suddenly: 'Todd, would you say you're an honest man?'
'Yeah,' Todd said folding his arms, 'yes, I guess.'
'Is it okay if we talk for a bit about Nick?'
Todd felt uneasy. Worse, light-headed. He felt punch-drunk. All the weight had gone out of his body. What was left was a burning. Nick was the brittle core to which he'd been welded. If that core flaked away, what then? What of him would be left? Without noticing, he drew cheers and some laughter from the audience by sparking an illegal cigarette. He was vaguely aware that a photo of Nick had appeared on a back screen.
'Because,' Eddie was saying, 'people have often wondered how much influence Nick had on that first album. I mean, a lot of those songs seem to be about Nick, almost as if …'
Eddie leaned in. He was like a floating knife. Todd could barely look at his sharp eyes. He knew journalists, they'd hung around him long enough; he knew a man with a scoop. He could sense the cameramen shifting position, the big close-up coming. 'Todd, can I ask … did you love Nick?'
Weight trickled back into Todd's bleached body. His ears were ringing. He couldn't quite believe it. He was breathing.
'Yeah, Eddie,' he could hear himself saying. 'Nick was like a brother to me. I suppose in a way … Nick wrote those songs with me.'
'Fascinating.' Eddie glanced at the camera. 'What do you mean?'
Todd exhaled smoke, shut his eyes. And suddenly into his head came an image he had not recollected for some years, though for a long time it had haunted him. It was the image of Nick, as he'd found him that day, hair like a pall across his face, lying alone in the bath.
--
Twitter: @ianjmclachlan
Instagram: /ianjmclachlan