The Party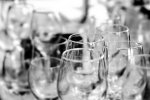 Tue, 15 Dec 2015
Start by squatting
in an upstairs room
unfurnished, bare floorboards
the music from below
a swaddled thumping.
They'll locate you
at some point;
that's what your iPod's for.
You might clamber onto
the extension roof
lights from close buildings
like refuge points
in the cold night.
Soon your teeth start going.
A guy calls to know
what you're doing.
In the garden
they're all dancing.
They keep near the house
away from the dark hedgerow
and silent elm.
Downstairs you find
a soft chair.
The storm has abated
here, abandoned bottles
piled ashtrays
the air thick and
wine-spiced
till a girl buzzes in
turns the CD player
right up - Beyoncé
All I Could Do Was Cry.
--
Twitter: @ianjmclachlan
Instagram: /ianjmclachlan