The Adventures Of Miniator -- Chapter 5 The Meeting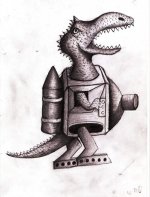 Sat, 20 Nov 2021
The Adventures Of Miniator -- Chapter 5 The Meeting
Miniator sat in the communication room talking with the image of Professor Zok on the large screen. It really was as if the professor himself was with him.
'So Captain,' said the computer, 'after a quick scan you seem to be alone on this island, no settlements, no native villages, and no boats or ships.'
'Yes, I also saw nothing... and this spot seems to be a good place to make a base, out of sight from passing ships, and the island is not on any of the sea charts of this period'
'Captain, would you like to chose a shift-change to fit into the environment,?'
'Yes, show me what kind of houses you have from this period.'
The computer began displaying images of typical houses from the 1700s. Some too large and grand, some too small. In the end Miniator chose a wooden house with a poach, three windows upstairs and three windows downstairs. The Dino shook for a moment as it shifted its shape. Miniator went outside to see how it looked. He flew around it a couple of times, then returned to the communication room.
'Everything fine, Captain?'
'Yes, I like it.'
'Have you thought about plans for your stay in this time zone?'
'Yes, I thought about visiting other islands, maybe we could start tomorrow. We could shape shift to another sailing ship – although, I thought the schooner looked great – so not to attract attention..., but you know, Computer, I think it will be hard for me to meet with humans... I think they will be so alarmed by my appearance...'
'Well, Captain we could make you even smaller... say half the size of a human...?'
'Yes, OK. I really am a Miniator!' he laughed showing all his sharp teeth. Miniator pressed the Shrink button on his computer suit and reduced himself to half his size.
They then began looking through possible sailing ships of the period to begin their trip.
The computer suddenly said, 'I've detected a creature moving towards us, Captain!'
'How far away?'
'500 meters.'
'Could it be an animal?'
'No, Captain it is two legged.'
'Can you visualize it?'
'Not yet, Captain, but soon if it keeps coming closer.'
They waited looking at the screen.
'There Captain! a human!'
They saw Swing Blood, moving slowly and carefully towards them in the woods. He had his bow and arrow ready to use.
'Is that a weapon he is carrying?'
'Yes, it's called a bow and arrow, and is used in the skill of archery, used for fighting and hunting, but was more typical in an earlier period before guns were invented, but is still used for sport, and by more primitive tribes, of which, judging from this man's dress, he is not. He has the clothes of a seaman, Captain.'
'Do you think he can see the house from there?'
'Not yet.'
'Can the Dino's Larynx detect his thoughts yet?'
'No, a few more meters...'
'Now, Captain... His thoughts are: curious, and afraid... he could be hunting, Captain.'
Miniator watched him on the screen as he came nearer. He was dark haired with a black patch over one of his eyes. He suddenly stopped and quickly hid from view behind a tree.
'Now he has seen the house, Captain! His thoughts patterns are now very afraid and shocked! Did you hear him speak to himself, Captain? His speech patterns are English.
'Yes, I can imagine, he is afraid,' said Miniator, looking a bit concerned.'
They watched as Swing would sometimes look from behind the tree towards them, but he came no closer.
'I really don't know what to do..., said Miniator, I don't want to approach him. The professor, if he were here would tell us what to do.
Then Miniator thought for a while, and suddenly said 'I have a plan!'
Swing Blood sat hiding behind the tree, trying to make sense of his discovery. Wondering how he had never come across this house before... although he had set traps in this area... and his walks were always around the coast. Had the house been abandoned? There seemed no sign of life. And did this house have anything to do with the ship and the flying objects he had seen?
The house had no garden that he could see from here. Maybe there was one around the back, a house also needed a well for water. Should he try to make his way around the house? He was about to set off when he saw one of the windows had been opened slightly, and the sound of music wafted from inside, he couldn't say which instrument it was. Then a woman's sweet voice accompanied the music, now and then, and he suddenly realised she was singing in English... it was beautiful to his ears. He hadn't heard anything so sweet for the two years he had been on the island, and not since leaving England as a young boy... and since then there had only been those rousing sea shanties on board ships and in taverns, And now he could hear the voices of children laughing at some kind of play... it was all so overwhelming, it took him back to those distant memories of his poor, long since departed mother. The memories tore bitterly at his heart, and the tears won his eyes, and he lay on the ground and sobbed...
As he recovered, he could also now smell food cooking... roast beef! yes, roast beef! It was all too much for him, he was decide, he would simply go to the door and knock! He would explain himself and excuse his abrupt arrival..., try to reassure whoever appeared, he meant no one any harm... he worried how disarrayed he must look...
As he reached the door he saw it was ajar. He knocked lightly, but no response came. He knocked again a little harder, and in a calm voice he shouted 'Hello!' And to his surprise the woman's voice simply replied, 'Come in!'
He hesitated, but no one came, so he pushed open the door. There was a long narrow hall to his left, lined with paintings and many maps in frames. He stepped inside and said 'Hello' again. And the same voice over the music and the sound of the children replied, 'Please come in!'.
The voice seemed to come from the bottom of the hall. He made his way down the hall, always expecting the woman to appear to greet him. He followed the sound to a door on the left which was slightly open.
He pushed open the door and saw a room which was completely alien to him. He stood trying to make sense of it... there was no wood... every thing was made from materials he had never seen before... some glass, but everything was shinning, and bright colours, and little flashing coloured lights... then the woman's voice, that seemed to come from another room, said, matter a factly, 'Please sit down, make yourself comfortable, I'll be with you in a minute...'
He again looked around the room, and saw what could be chairs. He apprehensively sat in one. Then while eyeing the many strange objects around him, his eyes went back to the door he had entered. And what he saw sent shock waves through his body, and made him jump to his feet. For there in the door stood a creature, a dragon...? the size of a large dog on its hind-legs, with a large snout, with a green scaly skin, dressed in full metal armour...