Baobab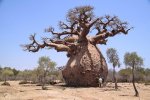 Mon, 24 Aug 2015
Baobab tree, legend has it,
divinely planted, had the habit
of running off across the earth
Its wanderlust and lust for mirth,
so contagious, unsuppressed,
that angry God, unimpressed,
turned its smile into a frown,
planted baobab upside down.
Now its roots can only flail,
its branches can not tell the tale
Of how baobab, born to run
angered God, who hated fun.
I don't know what you think about it
but if God exists (I really doubt it):
Immoral landscape - my conclusion
Where God makes you, then makes confusion
about the things you shouldn't do,
it really should be up to you.
So without a God we can be free
But God I'd love a running tree.