Apple Trees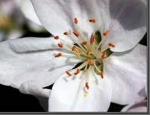 Sat, 22 Feb 2014
In spring they planted three apple trees on common land
with space beneath
piles of stones moved from a wall for more in autumn.
Each of the trees carefully selected so as to pollinate the other;
cards rattled in wind
to remind themselves of the groups and the fruit and the science.
And after planting they scrubbed at the soil on their skin
and scratched beneath
fingernails to remove any trace of earth from their hands.
As summer came the land began to flood; it rained continually.
Stars disappeared and
the absence of memories bound mirrored weeks into
a year that everyone would soon forget. The stone lay unmoved
as she picked at the last
surviving blossom, pressing the flower between two sheets
so that the blues previously unseen bled to the shape of a tear.
And from the bleached flower
an outline appeared revealing everything that to them was missing.