Calban Attends A Concert : A Night Out (Ch.17) Part 2
Image: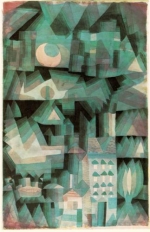 Fri, 07 Feb 2020
Part 2
21/8/94
    Another recording began to play, louder than the last it seemed. Janus turned back to Julia in answer to a question, which Calban could not hear. The moment of tension seemed to have passed. He began to relax. He could not be expected to talk to these people when the music was so loud. He wanted to talk to them, but if he did so now he would be a failure. Later in the evening, when he had had time to get used to the situation he hoped the right opportunity would arise, perhaps with another more lengthy introduction from Julia, Vera or Janus. The ladies seemed content to talk to each other at the moment.
    Vera approached him. He felt comfortable with her. She had gained his trust. She radiated understanding. He did not understand why she had reached out to him, months ago now, but she had changed his life for the better. He hardly dared to think of what his future existence might have been if she had not helped him. He had been drifting with no future, no friends, slowly becoming more distant from human contact, with no idea of how to change his life. Life was better now. He still went to work every day, tired , bored and frustrated. He still retained his position in the House, despite his refusal to take further courses. He still spent much of his free time slouched before the vidscreen. But he had friends. He saw them as often as he was invited. He had begun to learn the arts of conversation. Instead of reacting to other people he was beginning to initiate conversations.
28/8/94
    "Calban its good to see you. First time here?" she enquired. He nodded. "What do you think?"
    "Great," he replied. "There is a nice atmosphere here. It's exciting." She smiled at his innocence. Calban knew she thought he was innocent, but he also knew that she liked him. He was sweet and harmless, but she found him honest and deep. She had said that to him before, so he knew where he stood with her. Calban had realised a long time ago that Vera understood him because she had been alone and frustrated like he had in the past. She often talked about that. It was her way of spreading her knowledge and experience to others. She had found a mission in life, which was to help people who had fallen into the traps she had once fallen into. Calban was one of her targets. Through her he had learned a lot. He found he agreed with most of what she said. Vera had been up in space, on a space station for MIOST. She had believed in everything she had been taught. She had believed that mankind's function and its highest goal was to progress, to learn about everything in nature and in space, to perfect knowledge. On that station she had worked so hard, and yet been so lonely that her view of life had begun to crack, until one day she had met a man who had talked to her and listened. He had awakened the human being in her and made her realise that there must be more to life than duty and mental effort. He had disturbed a sexual and emotional animal and she had learned, for the first time in her life, how to waste time and do nothing constructive. She had taken to spending hours in sexual embrace, or to just spend time thinking. Rebelling against her work she had turned up to work late and lacking sleep, desperately refusing to forego her new pleasures. But the system had not allowed her to rest. She failed her training courses, and was soon demoted to a lesser job back on the planet in Marta City. Now she was more content because she found she could work without the struggle to learn all the time, and her employers allowed her not to study, for the time being. She had found sufficient free time to join the group. After researching a few potential sexual partners amongst the group she seemed to have formed a close attachment to Jairis.
    "I have been here many times in recent months," Vera revealed. "Jairis and I like the music and the people. They are people who seek pleasure and enjoyment. They wish to spend their time with other people, not to be on their own in front in front of the Vidscreen."
    "I suppose most of them are like ourselves. They work during the day and relax when they have some time," Calban commented. He did not know where all these people came from and why they were here, and certainly did not know whether they all had proper jobs. He had never realised before now that so many people did this. He came from another world – the workplace, the college, and the lonely room. His only links with real people had been at work college and on the network, where he had the freedom to observe others – but they were like himself, insulated, private, lost in their own thoughts, unsocial, dominated by the structure of the working life. His discovery of the discussion group had been a revelation. Visits to bars had allowed him to observe other groups – the office workers, with their gossipy chatter and their earnest discussions about prices, wage rates and investments, and the manual workers with their unbelievable obsessions in sport, and their crude humour. There had also been the drop out types who seemed to have no work, but nonetheless had money to spend on drink. They either sat alone, staring morosely at other people or the floor, or they collected in lively groups, fashionably longish hair, bright clothes, endlessly talking, laughing and joking, young men and women. He resented their social abilities, he desired the women, but he was not one of them. They would have nothing to say to him and he would be speechless in their presence. Here in the Night Club the people were not drop outs, nor did they look like workers. They wore nice clothes in many styles, but they seemed like 'normal' people. They were the 'normal' people Calban felt he had been searching for all his life. But he was still not normal. He wasn't one of them yet, but he hoped he would be soon he hoped. He did not really know who they were, but he had the feeling they were normal. They must be office and manual workers by day, by night they were something different, more natural.
    "Yes," replied Vera, thinking, as if she wasn't quite sure yet who all these people were. You see them here but you see them nowhere else. They just turn up at the night club and you don't know where they come from because you never see them anywhere else. "I think most of them are ordinary people like ourselves. When I first came here I was shocked and surprised at what I saw. I could not believe that this separate life of leisure really existed. I had only seen glimpses of it on the Vidscreen and I never watched the Vidscreen much. I was moved to think that ordinary people came here despite all the time spent at work, despite all the pressures of education and the system. It made me think that change, for a dull society, was possible, was beginning to happen spontaneously. Now I no longer think so. Change is not happening here. This is an outlet, an escape from the system. And the system doesn't mind – it helps the system to continue to operate. These people have their fantasies and desires. They can enjoy something of that here and go to work again the next day having had a brief release. It isn't everything I first hoped, but it is something good. Do you want to dance?" she asked him, ending the conversation before it became too deep for such a place.
   "I'm not sure," said Calban instinctively. He wanted to but he had never done it before and he didn't know how. He had seen it done on Vidscreen before and it looked fun, and he had observed the people dancing here, but he wasn't sure he was ready for such a potentially embarrassing display yet.
    Vera could read him easily. She knew he wanted to now. It was an important part of his escape from the straitjacket of his previous life. She knew he was ready to take this small but important step into a more real life. Tonight he was excited and willing to step into the unknown. She took his arm with both hands and led him towards the dance floor. Without saying yes, Calban's legs ignored the orders he gave them to stand still, and Vera was able to pull him without real resistance into the middle of the floor, amongst the busier crowds of dancers. Here it would be more embarrassing to stand still and do nothing than to dance, so Calban began to move his legs to the rhythm. Vera held his arm even now to make sure he did not run away. She was laughing at him, but he appreciated the humour and did his best to move his body with the rhythm. After a while she no longer gripped his arm. The rhythm had come to him and he found he did know how to dance after all. He looked at Vera, following her movements, responding to her communication. He had never been able to communicate like this with anyone before and he felt thrilled. At that moment he wanted to kiss her, but he could not because she was not his. He could not have done that anyway, even if she did not belong to Jairis. He would have needed the invitation from Vera. Even with the communication he knew they had it was not close enough to be able to kiss. Kissing was a big event, far more important than dancing or talking. He did not want to kiss her in the way he wished to kiss the ladies in the films and pornog vids on vidscreen, in his dreams. A kiss with Vera would be more than sexual, it would be friendship, closeness, physical attraction, and, perhaps more than the others, it would be the intimate kiss given to a mother protector.
4/12/94
    The music changed. Something which was less to Vera's taste was being played. It was softer and she no longer wished to dance. Calban followed her off the dance floor, his new experience over for now, but he knew that later he would return to the dance floor. There was something in the natural expression of rhythmic inspiration which gripped and motivated him, a rare experience of positive enthusiasm in his puny life. He knew his parents and millions of go getting sensible people like them around the planet would disapprove of the dancing and this place, and also the people inside it. It was an illogical pastime, devoid of any usefulness.
It could lead to nothing which would help to develop his career or discover anything of value to mankind or its business organisations. It might indeed cause the nightclubbers to tire themselves unnecessarily, to be late home and short of sleep in the morning. Their daily performance would suffer. The dangers of alcohol had been well advertised. It surprised many people that the stuff had not been banned but the international community was a free society. If there existed a market for something it could be sold. The people exercised consumer's choice with their money. It was their right to spend it how they liked. Calban had rarely drunk alcohol, but now that he was beginning to have a social life for the first time he was becoming more used to it. Its effects were not harmful, they merely relaxed him.
    It seemed to Calban that it was right, for himself at least, to hold still in the 'progress' of his life sometimes, and merely to relax and enjoy himself, and to learn about the other human beings who had shared this city with him all his life. He was becoming fully aware of them and the other sides to them only now. When he stopped studying his 'act' had been a declaration that he wished to stop the all consuming drive towards personal progress, which society demanded of all its pupils, and take time to understand and to be himself – a human being – an animal.
   Calban felt liberated to be amongst so many people who, in whatever small way, had liberated themselves from the world of continual progress and of vidscreen induced isolation. The dancefloor was a further act of liberation where the new man stepped away from the old and performed something which could easily leave him open to ridicule, a positive act which defined his essential human and animal nature. He was participating in a performance, becoming an active participant for all to see, expressing his liking for the music and for life.