Cruising Blues : Period Of Adjustment
Image: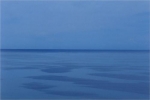 Fri, 09 Dec 2016
11/10/16
Cruising Blues : Period Of Adjustment
    None of the other members of our dinner table turned up on day 3 for dinner, and we were so looking forward to varied conversations and developing relations with them, after a morning on an island beach in the sun and an afternoon in the sun again on the back deck. I think we stayed in the sun too long, reading and writing, listening to music, watching the warm Caribbean seas float by, and the clouds, as we headed for the next island in the sun. We dipped in the deck pool again, and were refreshed again, but only for a time.
    Too long in the sun, we got showered and ready for dinner, but our 'friends' did not turn up. My wife rejected her starter, which spoiled it a bit, but our kind waiter let her have some more lasagne for main course, which she loves. I ate her starter as well as my own, both of which I thought were delicious. There was not quite enough ice cream on my wife's little sweet either.
    We only had one glass of wine each at dinner, and ambled out to meander aimlessly through the ship, always looking, not quite finding. We finally got the internet issue sorted out, logging in to the ship's internet, bought some duty free cigarettes, that neither of us like or want, for other people. Why is it that other people can spoil your holiday with these requests! (If you are one of those people don't worry – I am just exaggerating.)
    We went back to our cabin for a short while, and could have easily flopped on the bed or settee and stayed there. We had to admit we were tired and had run out of energy. We seemed to be on our own, lacking in energy and unsure what to do.
    We still had the evening entertainment to go to – tonight Italian Opera Songs performed immaculately by singers and some dancers in the beautiful ship's theatre, where we had seen a couple of excellent previous shows. Even so, despite its beauty and passion the performance of Italian Opera was bound to be rather heavy, perhaps not the ideal mood breaker to our washed out, sun roasted weariness. Nonetheless the beauty and passion of the music managed easily to bring a few tears to my eyes, but not quite to lighten our mood.
    Observing the people in the casino or looking round shops of perfume or jewelry held no interest whatsoever to me. I missed the glances of a couple I should have said hello to.
    Exhausted we went straight to bed at 10 o clock p.m. and slept for a full 7 hours. We woke up fairly early, but feeling mentally and physically refreshed and ready for a new day, each day a new adventure!