Rivendell
Image: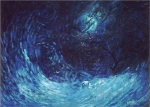 Fri, 21 Dec 2018
Spa pool and hall, lovely landscape.
Newfound home away from home,
overlooking the Cheshire Plain,
and Manchester in the distance.
Like Rivendell, it offers a haven of peace
From the turmoil of Middle Earth.
In the spa pool we wash away the cobwebs of our normal existence,
And return to youth in the magical pool.
The White Tree of Christmas towers above the staircase,
Casting its light in the evening darkness,
Preparing the way for the Midwinter Festival of Christmas.
We will not be there then,
having returned to our own hearth on the other side of the mountains,
but its spirit will return with us to our home for Christmas.
The Elves have all gone to the West,
And all of mankind are ageing rapidly.
We celebrate our middle age.
But fortified with Beef and Salmon,
We remain young at heart, listening to music from my youth.