Star Man
Image: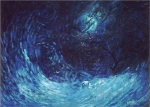 Fri, 29 Jan 2016
Star Man
13/1/16
Even the Prime Minister likes Bowie.
We are the Bowie generations.
Our lives are so regimented. We study, study, and study to find ourselves a job. When we find one we can handle we stay in it because we can't be bothered moving again.
Bowie shows us it's alright to keep moving, but it's alright for him because he's a star. He made the grade and worked hard for it. His talents all came out and laid their light on the world.
Once his talents came out into the light they shone on everyone. He went around the world, touring his music and selling his albums.
He plays rock'n'roll better than the ones who rock all the time!
He practically invented punk!
He's got as much soul as the soul stars themselves!
And pop is his playground!
He writes science fiction better than the writers; more succinct!
He is our alter ego.
We have to stay in the ordinary world, we can't be free, but our minds can!
Bowie and the Beatles, and all the others, they showed us the way, but we can't completely follow; Because life isn't just a party, it isn't quite as colourful as they portrayed it.