A Night Out with the Boyz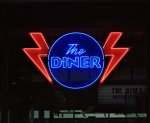 Sat, 25 Aug 2018
"The most I can give you for it is three quid," Harry told the hipster guy in front of him.
"But this is a classic, the Director's Cut of Blade Runner, the first one, not the fourteen that came after it. It's worth ten times that," the hipster guy replied, glaring at Harry.
"It's the shop's policy. We only pay more for new DVDs. This is old and I can only give you three quid for it," Harry said.
"It's worth ten times that on eBay," the hipster protested.
"So, sell it on eBay," Harry said. "This is The Pawn Company and I can only give you three quid."
"eBay isn't interested in it," the guy told him, now looking embarrassed.
"Do you want to sell your DVD?" Harry asked him.
"Yes," the man replied.
"Okay," Harry said.
He took the DVD off the man, quickly rung up the purchase on the till he stood at and handed over the cash. The man took his money without a word and turned away.
They'd been getting more people like that in the shop, people who didn't look at home in a pawn shop, people who felt their belongings were worth more than the shop was willing to pay and would argue with him. That hipster guy had looked so straight, not someone forced to start selling off his DVD collection. But the bad economy was doing that to everyone; it was a buyer's market, Joanna, the shop's manager, kept saying.
Harry glanced around the shop. From his position behind the tills he could see across the shop's floor, it was part of his duties on the till to keep an eye open for shoplifters, though there wasn't much chance of that today. There were barely a handful of people in there, most of them endlessly browsing, none behaving like shoplifters. The hipster guy was stood nervously in the shop's doorway. He probably had something else to sell and was working up his courage. That happened a lot, too.
Harry hated this job but so far it was all he could find. The Pawn Company advertised themselves as "modern" pawnbrokers but in reality they just bought goods cheaply from people needing money, and then sold them on for a profit. Often Harry felt like he was robbing those people, buying their possessions from them so cheaply, but it was his job and he needed the wage.
He'd moved to London so he could be gay, something he couldn't do in the very conservative Kent town he'd grown-up in, but he'd been shocked by how expensive everything was, even the essentials to live on. This was the only job he could find. He'd thought, with all his IT skills, it would be easy to find a job, but he found himself competing against people with degrees just for the most basic IT jobs. He'd been on the verge of giving up and moving back home, to go back into the closet again, when he'd got this job. He'd told himself it would be temporary but that was ten months ago and he'd found nothing to take its place.
At least he lived in a flat share with three other gay men and was finally exploring his sexuality, as much as he could afford. At the end of each month he had no money left. He couldn't save for anything, no holiday, no new clothes, no luxuries. He was getting by but that was all. Could he even afford to have a boyfriend? All the expense of doing the things that were expected to do when you were in a couple.
His phone buzzed again. Joanna was nowhere to be seen so he could read his texts at the till. He took his phone out and found it was from his flatmate Buzz. Buzz was a good mate but he was also a dedicated partier. He lived for his weekends out clubbing.
The text read:
"R U Up for clubbing 2moro? Me n the gang are up for a W/E of it. We'll find you a BF."
It was so tempting. Tomorrow was Friday, the first day of his only weekend off work this month, and he hadn't been out for weeks. Buzz also knew how much he wanted a boyfriend; but even just a weekend of clubbing would be a relief.
Could he accept Buzz's invitation? He didn't have any money. He only had seventy pounds to last him until payday, two weeks away. One night out with Buzz would eat up all that money, it would never last a whole weekend. But he wanted to go clubbing, he was gay not a bloody nun. He was twenty-three and already his life had stopped.
Then he saw the pile of leaflets Joanna had dumped next to the cash till. They were for a Pay-Day loan company. He picked one up and saw the writing splashed across it, claiming that it approved 99% of people wanting a loan. He had a job, they'd approve him, Harry reasoned, and even just a hundred and fifty pounds would give him a great weekend out with Buzz and the gang.
Could he afford to repay it? He'd heard that these Pay-Day loans had huge interest rates, but if he was careful and didn't go out at all the next month he could afford it, couldn't he?
He stood there, his phone in one hand and that Pay-Day loan leaflet in the other. He was twenty-three, he lived in London, yet his life was as dull as it had been back home in Kent. He could afford it, just this once.
He pushed his phone and the leaflet into the back pocket of his jeans and looked up at the next customer, slowly walking towards his cash till. It was the hipster guy again.
"How much would you give me for an iPod Shuffle?" the hipster guy asked him.