Eggshells In Our Eyes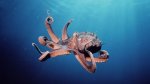 Tue, 23 Feb 2016
How can she be here - so very

near and coldly threaten to be gone?



The hereness - the very nearness of her

tortures by her touch that she might leave us soon



with eggshells underneath our eyelids, 

and baby octopi vying for space in our hearts -



turning and churning voluptuously

in hopes of finding peace



on their way back to the sea. They squeeze

their desperate tentacles up into our throats -



we choke and do our best

to gag the worst of them back down, knowing



they've a better chance of making 

their impossible journey, than we, of keeping her,



or her of pacifying me. How can she rest so very here,

so near, and threaten, no, almost promise to be gone?