Cheers to the Goddess of Goodsurprise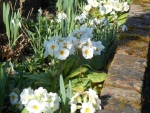 Mon, 03 Mar 2014
1 likes
Cheers to the goddess of goodsurprise
that lifts me o'er my thinly hidden
but often truly twisted bitter cynicism
into continuing  with folks whatsoever
my initial notions
so that yesterday I got a session of work
where I thought there would be none
and went with a lady and her fun teenage
purply haired daughter to promote health
at a little festival at a college,
organised by a truly amazing guy called jack,
though even before aine and amy and myself
arrived in plymouth from exta I knew that the
make or break would be the Hey Road Trip!
quality that never fails to perk me
and Cheers the goddess sorted it
right there in aine's car what went right was
the friendship and true loyalty she has with her kid and
her awesome motorway skills through the driving downpour
and their down-home enjoyment of eating  and offering me
 pure junk, bumper packs of white choccy
buttons, and pringles and they planned
a macdonalds on the way back though
no hissy fits when they missed the
tricky turnoff
and Cheers to not too many of those these days with
my  sweetseventeen little miss and though my one
dresses hardcore girly and amy is more soft gothpunk
those two are pure Maid of Truth and Humour
which can come surprisingly easy to today's youth, they often
seem hardwired to feelgood in these harsh and sometimes
ill-feeling times
and Cheers to us on Abc,
we're a mixed bag of allsorts and sometimes I think
you lot rantmoanrabidly too much and me too, hey
what the heck we're a good little
lot, I reckon the natives here are friendly
and don't bite
oversavagely
and Cheers to spring.
Pinch-punch - first day of the month
was saturday, let's hope this year we
pinch ourselves in true wonder and awe
to the Goddess of Goodsurprise festooning
her sunbeams and flowery fertile
magic rainbursts.