Before I Post Them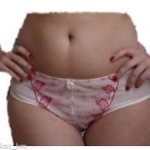 Mon, 09 Mar 2015
You left behind your knickers and your vest
Returning from the station, here I see
Two memories of a loved one who has left.
In pink lace florals was your bottom dressed
From Top Shop, and your top layer bottle green
You left behind your knickers and your vest.
Behind lie pregnancy, Pampers and the rest.
You're now a big and capable twenty-three
On the First Great Western with those items left
Behind; which should be on behind and chest.
I miss you and to meet again I'm keen
But a jiff-bag gets your knickers and your vest.
Before I post I'll need your new address
But the undies need no laundering, both pristine,
Beneath my pillow accidentally left.
And Lola, love, I wish you all the best
In your London house and at your whiteboard queen
Of the classroom, and I'm not a total pest,
So I've changed your name and
                                            here's your knick-knicks and your vest!