31. W O L D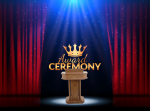 Thu, 14 Feb 2019
'Hall – lowww. Berenice, isn't it? Doo deklay-ah. Ah haven't seen you since the last...'
Tabitha Vanderbilt's voice rattled along. Maybe it was the rest of the coke that had managed to stay above her filtrum; maybe there really were people in the world who talked like Katherine Hepburn. I almost laughed at the thought of Sam Sara going through life as a Berenice.
'Berenice? Ah, you must mean my sister. And you are?'
Ms. Vanderbilt coloured up a little more, as she spluttered around a noise that might have been 'sister?'
'Yes, I have a sister, we could pass for twins, although I am a little taller, surely you can see that?'
'Y-yes, I can see that. I'm sorry, I'm Tabitha Vanderbilt, I'm one of the nominees. Friends call me TV.'
I could believe they did. She was a flat-screen, there wasn't much behind what you could see.
Sam held out a hand at last, TV looked at at it before giving one of those three-fingered wet-fish handshakes,
'I'm Taylor Made, I do the morning show at WOLD. This is my producer Harry Chafing.'
I almost started humming.
A flammable jacket came over and took our order. TV already had something with an umbrella in it, so I ordered two whiskeys and shouldn't have been surprised when Johnny Walker turned up rather than a highland malt. In the meantime Taylor and TV were gabbing about getting TV on the radio after she won the De Sales prize. I looked around the room. There were some faces I knew. Tom Pynchon had turned up in disguise, he got about more than anyone knew; that day he was dressed as Margaret Dumont. There were no big players, though, just people who would never trouble the top of the bestsellers list and those who wouldn't again. A single crew from the local television set-up had brought a camera-stroke-boom operator and one of those identikit blondes every station employed from Washington D.C. to Washington State. Nothing attracted the TV hordes of the Golden Age, not since since every cell-phone owner had turned into a cross between Walter Cronkite and Haskell Wexler.
There was a dais with a lectern, someone had rigged a temporary spot overhead and cheap folding screens acted as the wings from which I guessed Lilith would enter to go through the sham of opening the envelope. There was just enough room at the back of the dais for a lounge bar combo. The bass drum skin read Cucamonga Penguins, the five guys' vamping sounded like they were tuning up, or maybe they were sharpening the blades on their ice-skates. They did look more like an Ice Hockey team than a band. Most of the audience adopted the right pose for the bored invitee or the excited nominee, that was to say either chin scratching or gripping stem-ware whilst baring less than movie-star teeth. The rest were the PRs and marketeers working for the publishing houses, Not one real-live editor was in attendance. Just another award shindig.
Up in Heaven, there weren't so many writers among the Saved as you might think. Peter was very picky at the pearly gates, If he didn't like your stuff, you got the Hellavator all the way down to Mr D. People used to say The Devil read out their work to them until they begged for mercy. Even Hemingway. I didn't want to be in the 50 Shades woman's stilettos, come the day.