Anemoi - Winds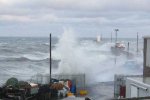 Tue, 04 May 2021
The wind has no home on this rocky coast,
it blows horizontal, driven by snake-footed Boreas,
or the blossom bringing Zephyrus, who turns
every flower into a dandelion clock,
blasting petals from the perianth.
There are no crops for Notus's angry
laying to waste, under the eye of Apollo.
Eurus rages, influences each gust
from the four airy siblings, brings
storms and cruel stinging rain.
The wind boxes the compass
in less than the time it takes
for a hat to blow across
the dunes and into the angry sea.