Déjà Lu (Formerly Déjà Vu)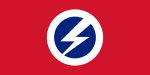 Tue, 02 Apr 2019
'Well, if you've really nothing to hide…'
a blond, bland, reasonable voice
offered us both an illusion of choice.
'And, if you don't mind, ID cards please.'
The streetlamps behind flickered like tapers:
I heard an echo of 'Show us your papers!'
'Routine, you know, come to the station.'
I heard the clanking of railway cars -
the kind without seats - with the wrong kind of bars.
On the desk a paper to sign;
'We need your jewellery, belts and shoes':
the ink on the paper like faded tattoos.
More than twenty, in a concrete room                                                                                                    – its steel-framed windows had toughened glass
I saw without seeing , smelled burning - and gas.
We walked out, free, the following day,
so lucky to leave: with just a warning,                                                                                                    lucky to see that rain-splashed morning.
NB Published 2007 here