Gustav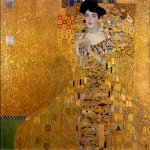 Fri, 17 Oct 2008
She outshone streetlights on the Sperlingsgasse,
I never learned her name, nor did I ask her.
It might have been Richter, Krupp, even Rosenbloom,
I thought her a Venus, like to cover the moon.
I left an envelope at a certain club,
addressed simply to 'the Object of my Love'.
Did her eye fall on its contents, my sticky passion?
She did not answer in desultory fashion.
Disappeared, vanished, sucked out of my life.
I paint; assuaging these capricious hurts.
Whether fickle mistress or frumpy wife:
it's still a girl in her coloured-glass skirts.