Inward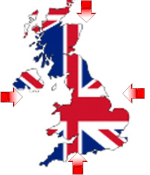 Tue, 21 Nov 2017
"We are looking inward," I say,
the exclamation mark inferred
-by you- as you retort,
"we are looking further afield,
beyond your blue-and-yellow-starred horizons."
I believe you,
despite our years
of disagreement,
I believe you believe
our former colonial friends
will welcome our petitions
and not laugh in our two-faces.
I believe that you believe
in Bulldog Britain,
though we are but pale imitations
of those brave fellows
on the pages of
the Battle Picture Library.
My war was ridiculous
by comparison.
I believe if we are asked
the hard question this time
we will hoist up the drawbridge
as some advised
all those years ago.
Trump is no Roosevelt,
he's not even a Reagan
and there is no Churchill
waiting in the Whitehall Wings.
Yet we are looking inward,
safe in our island fortress,
The antipodes are not our saviours,
why should they be?
"We've never had it so good,"
a sound-bite avant-la-lettre
which "we" did he mean?
Not you, not me, not my father
or any of many working men.
The horror, the horror!
Rickets, TB, polio:
history book diseases.
We are merely fat:
as fatted as calves,
we are veal,
we are capital.
I believe you believe;
that is what I'm afraid of.
You are looking inward.
You are looking backward.
We are looking foolish.