Jocasta's Reading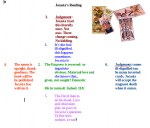 Sat, 21 Oct 2017
1 likes
Jocasta turns a card. The thirty seconds hovering - and havering, as Nanny McIndoe would undoubtedly have said – trying to decide which card to turn over are not really wasted. Sooner? Later? The magic is in the moment. Her mother taught her that, at least. The silk scarf she uses to keep the cards safe from damp, and other influences, is around her head. Mother read to Jocasta from The Devil's Picture Book until she died. The silk scarf is one of Jocasta's mother's: she wore it to visit the town until she could not visit. It is old, but it is beautiful. Jocasta knows, now, that you can be one or the other, unless you are a piece of silk rumoured to have passed through Marco Polo's hands.
Jocasta has thought about the question. For a reading will answer only one. The major arcana is not for foolishness, though one card is named The Fool. The scented candle on the table is guttering. It is the last Jocasta will ever buy. Whatever the cards say, this will be the last time she lays them in the six-card cross.
1. It's the fool,
ill-dignified,
this happens
sometimes:
Jocasta is
impulsive,
she knows that.
The second card lies athwart:
2. The Empress is reversed: so
obvious. Maternal love not
given, not sought? Domestic
life in turmoil. Indeed. HA!
The third position is above the first
3.The death card:
Jocasta read
this literally
once. Not
now. There is
change coming.
No kidding.
Position four lies to the left of the first
4. The Moon is
upright, thank
goodness. The
book will be
published.
Jocasta has
written it, see?
Position five is below the first.
5. The Devil dances
on his head. Lust
and obsession
play no part in
Jocasta's question.
To flee slow
torture, or not?
Position six is at the right hand of the first.
6. Judgement comes
ill-dignified too.
So many inverted
cards. Jocasta
will pre-empt
malignant death
before it comes.
Jocasta removes the scarf, catches sight of the bare skin and the candle-light reflecting off it in the gilded mirror. She takes one of her Turkish cigarettes from the teak box with its filigreed catch and lights it. She inhales deeply, then releases two gouts of smoke through her nostrils. The scarf, pooled on the cards like a rainbow-ed puddle, catches fire as soon as she touches the cigarette tip to its fraying edge.
Footnote:
I did go out with a girl called Jocasta once: I read her tarot after too much wine, when I was 19 and believed in such things.