The King of Diamonds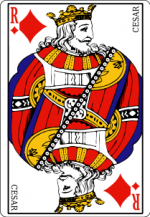 Sat, 15 Jul 2017
We turn the cards,
court cards, courting cards;
our mini-tarocchi
un pasatiempo,
whiling away our moments
in two-handed patience.
We dare not call it Solitaire.
The diamond King
is Caesar they say:
is his hair combed forward
like mine to disguise
the ravages of time?
For so long
I felt I was
the Jack of Hearts.
We move the cards,
played cards, playing cards;
our lovers' baccarat
- a bagatelle.
Just two tired gamblers
who dare not leave the casino.
NB: un pasatiempo is a pastime in Spanish.