Kings of the Last Frontier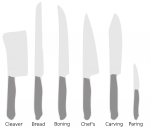 Sat, 08 Dec 2007
We cannot circle the wagons
in the lore-less last frontier
and damned by automation,
there are no pioneers.
We fear the use of plutonium
not just in a dirty bomb:
we'll watch the rust on the chromium
after the oil is gone.
So learn the craft of the bowman
crack the code of the knife,
and if you're a vegetarian,
lose your respect for life.
A way with an axe and flint shards
will become desirable skills
and bring you more of warm comfort
than a million little blue pills.