Liar's Kingdom Canto 6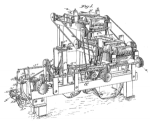 Mon, 28 Mar 2016
There is still no-way of summoning the lift. Perhaps there's a secret patch of concrete. How can you work for a company for so long and never meet the tea-lady? Why do they have one? There are vending machines and water coolers on most floors. Ok, not on mine, but I've seen them, I have. Speaking of machines, I decide to have another look at the Perpetual Motion Machine. Alright, it may have started but I don't think it will ever stop. Does that make it eternal? Guess not.
I go down row 9, the noise gets louder. I stop at a cabinet, open the top drawer. There's an old-fashioned cassette Walkman in there. I put the headset on, turn up the volume, eject the cassette and throw it as far down the aisle as I can. Lou's masterpiece on cassette, RCA Victor. Probably worth a fortune. I leave the earphones in my ears, jam the Walkman in an inside pocket and keep moving toward the Machine.
The closer I get the less sense it makes. There is one gigantic flywheel, scratched on the rim is Rufus T. It isn't the name of the manufacturer. There are dozens of other flywheels. The machine has cogwheels, pistons, pulleys, ratchets, shafts, cranks, cams, sprockets, toads... I made that last one up.
What the Machine doesn't have is any discernible purpose. It doesn't appear to function as a dynamo, rotary converter or a even as a machine of manufactory motive, like a loom, for example. It is no conveyor belt, production-line automation. It just is. To be is to do nothing, haha. The machine has no flashing lights. No alarm or warning light, no control panel, not even a big red button marked do not press. There is a metal box located centrally between two ratchet and crank assemblies. Although it shows no real connection to the Machine this does have the name of a manufacturer. It reads 'ACME' just under the hasp.
Meep, meep.
I guess that makes me Señor Wile E. Coyote.
There is just enough room between the moving parts to extricate the metal box. A post-it is stuck to the lid. Someone has written 'Do Not Open' in green ink.
Open the box. Can't take the money, there isn't any.
I shake the box. It doesn't rattle but something moves about inside. The box isn't locked, the hasp is over the staple but there's no nifty combination, or pad-, lock through it. The whole thing weighs maybe four kilogrammes, about 8 or 9lb, say.
I flick open the catch and flip the lid open. A cat flies past my left shoulder hissing and squawking before disappearing amongst the cabinets. There's another cat in the box, but it's dead. I slam the lid shut, drop the box to the floor. There's a commotion inside it. As soon as the lid is open another cat flies out, over the other shoulder this time.
And there's still a dead cat in the box.
Cerberus strolls up, picking cat hair off his brown coat. He puts a long nailed finger and excavates something from the region of his eye-tooth. After a brief examination he sucks whatever it was off his finger and smacks his lips.
'Well, I'm here.' He says.
'So am I.' I snarl it at him.
'Are you sure?'
I don't say anything and he just laughs.
'I'm a character and I'm trying to bring some conflict. You do know what's missing from your story, don't you?'
'A happy ending?'
I kick the ACME's Patent Cat-killing or Not Device back under the machine. Whether Cerberus is laughing at that or my answer I don't know.
Cerberus smooths back his long hair. The hump moves again.
'What would constitute a happy ending, do you think?'
'For me or for you?' I counter.
'Either, neither or both.'
I could kick him, but I don't.