The Outbreak of Certainty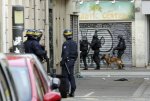 Sat, 21 Nov 2015
1 likes
Gunfire echoes in fire crackers and badly serviced engines,
the flinching is less severe now, some only dart their eyes,
look over a hunched shoulder.
The other shoe will fall, or not.
Underground, job, sleep;
an unholy trinity in Paris, Madrid or London,
the grind goes on and on.
Himmler echoes in jock shockers and badly researched soundbites.
The shrugging is still deeper now, some just avert their eyes,
the other is not my brother.
And in their sleep the others dream too.
They dream of mundanities,
underground, job, sleep;
the bare necessities of Paris, Madrid or London
the search goes on and on.
And in the corner the idiot box pontificates,
the forecast is for outbreaks of certainty
and showers of ill-aimed bullets.