The Picture Ranch 19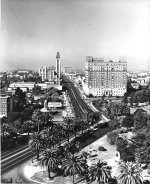 Fri, 30 Sep 2016
By the time the fire truck had arrived there were flames in the office window and rubberneckers on the other side of the street. I hoped the fire could be contained. I didn't know who else was in the building, but I guessed Miss Lipowitz had no more heard the sirens than my banging on her door. The Fire Chief buttonholed Zbigniew, who was talking like a carny spieler. I shouldered the Pole aside.
'Listen, Chief. There's a dame on the first floor. Opposite the fire. She doesn't hear too well. Didn't hear me knocking. '
'Who are you, Mister?'
'It's my office that's on fire.'
'You burn the toast?'
'I just got here before you.'
He looked over my shoulder,
'Houlihan, find out which mutt owns the flivver next to the hydrant.'
The fireman dropped the hose and went to comply.
'It's mine, I'll move it now. Reckon the hydrant is too busted to work, though.'
The Fire Chief went back to his own vehicle and called despatch.
I moved the car. The hydrant didn't work. A further truck arrived. I wondered if it was only a two-truck fire. The Chief sent two guys into the building. They brought out something that looked like a bundle of sticks wrapped in a sheet. An ambulance had arrived. The bell rang for a minute after it had pulled up. The bundle was put into the back of the ambulance, so I went over.
'She alive?'
'Was she before? She's an old bird, for sure.'
'Cut the funnies, why doncha?'
'She's breathing and that's about all.'
The bundle lifted a stick-like arm,
'It's enough, ain't it. You'll find out, if ya get to my age.'
The stick-arm joined the rest of the bundle. I thought about Boethius and what I'd do to him if I got the chance.
On my way to the car, the Fire Chief took hold of my arm.
'Ya might wait for the cops. Reckon they'll want to talk to you.'
I shook him off,
'They'll catch up with me, if they need to. I told you I'd just arrived.'
'That's not what he said,' he was pointing at the pornographer.
'How would he know? He probably set it himself.'
'He got a key to your office?'
'Some folks don't bother with a key.'
He didn't stop me as I made for the car. I floored the accelerator and left some rubber on the blacktop. Maybe I'd turn when I'd thought of where to go.
Maybe the car knew more than I did. It stopped in Tarzana, outside a sign that said B. Schultz, Auto-Repairs. A two-inch-link chain and some kind of giant joke-shop padlock held the doors to the body shop yard closed. It was just 8 o'clock. I got back in the car and waited. My neck cracked when Benny Schultz banged on the driver's window. I wound down the window,
'Got a minute?' I said.
'I wuz gonna ask the same, Fisher.'
He opened the door. He was wearing gloves. It wasn't a cold morning. Lipowitz, the man mountain followed me while I followed Benny. At the doors, Benny did some kind of Indian-rope-trick with the chain and padlock and let us in. There were about ten motors in various states of repair. Most had their plates removed although there was no mechanical reason that I could see.
The gangster pointed at a carmine-red Buick that only had its plates missing,
'Sonny, paint the Buick. Paint it black.'
'Sure, Boss. Don't forgit, I gotta visit Aunt Rosa in the hospital.'
Benny Schultz hustled me into the office before I could check out this B-movie coincidence any further.
Benny's office looked like it belonged to a white-shoe lawyer, except for the view out the window showed the the half-painted Buick and some hot cars instead of a view of the Town House Hotel and the palm trees along Wilshere Boulevard. There were framed diplomas on the walls, but I doubted the name on any was Benny Schultz. He was in the photographs though: alongside guys in hombergs, fedoras and even one guy in a pork pie hat. It wasn't Buster. As far as I knew The Great Stoneface wasn't in the habit of carrying a Thompson, not even in front of the camera. In fact, there wasn't a Hollywoodster on display. Not even George Raft. There was one civilian on display. It was an old picture, Benny and the other guy had had more hair when it had been taken. The other guy was Mulvaney of the LA Times.
The gangster waved me into a leather captain's chair and sat on its twin on the other side of a mahogany desk with a pen and ink stand made from malachite. The only paper I saw had been written on with a carpenter's pencil. Someone had written "fourhunnert $" and tomorrow's date in figures.
'Ya wanna drink,' he held up a glass and a fifth of bourbon.
I shook my head, 'Naw, 'less 'n ya got a real drink.'
'Why you drink that rum anyhow? Ain't as though you make cocktails with it.'
'I drink it 'cause I don't like the taste.'
Schultz looked at me like I was just off the bus from Des Moines.
'If I liked the taste I'd drink more of it.'
'Yuh only half-way in the bottle, s'that it?'
'Half-way out.'
He asked me what I wanted.
'There's a boy I know. Student down at the Military Academy in Carlsbad. Name-a Schultz. Your nephew, you said.'
Benny stretched a hand out and moved it from rocked it from side to side.
'Maybe?' I said.
'He is and he ain't.'
'Gotta be one or the other.'
'Waal, he ain't, but he don't know it. Gave him my brother's name and his mother gets 200 dollars a month to make sure he never hears mine mentioned.'
'Military Academy fees'd make a big hole in that.'
Schultz smiled like a lawyer at a rich man's funeral.
'I pay for that too, so my brother can't complain.'
I looked at Benny Schultz: a man about the same age as I was. He might have been in as many fights too, except that he had won more than I had. He took out two cigars from an inside pocket, held one out to me. I shook my head.
'I like a smoke. You got 'til I finish this one to tell me what you want.'
He struck a match and said,
'I'm listenin', Fisher.'
So I told him. I told him about Miss G's half-brother. About his by-blow's 'friendship' with him. About Eleanor's half-explained absence, about Boethies, Dzherzhinsky, Scott and all the rest. I told him about everything except the plans and the legal documents that the missing boy had found. I told him I needed his help.
Schultz took his time finishing his cheroot, although I had finished talking a few moments earlier. He was just about to speak when I remembered his words when I arrived at his body shop. So when I asked him what he wanted, he answered,
'I want the deeds.'