The Picture Ranch 30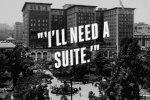 Fri, 09 Jun 2017
I carried the box back to the car and stowed it in the carpet-bag in the trunk. We drove into LA. I watched the headlights and the sodium street-lamps pass by like a flick-book animation. Miss Gräfenberg sat, hands folded in her lap. A woman content to be silent: perhaps the most dangerous kind.
'We need a hotel. Not a flop-house. You got any folding?'
Eleanor smiled, 'I think we can afford the Biltmore if that's what you think best, Fisher.'
'Murder!' I said, 'Think I'll get past the lobby?'
'It's LA, Mr Fisher, I can even afford to get you past the concierge.'
I turned off the 101 onto Hill Street and drove down to Pershing Square. The doorman had a uniform more impressive than Fulbright's over at the Carlsbad Military Academy. He took the Flivver's keys from me using a kid-gloved index finger and thumb. His other hand palmed a sawbuck that I hadn't seen my companion remove from her purse. We walked into the lobby. I craned my neck and tripped on the single stair just inside. The place looked like a Pope's palace, all gilt and frescos. Miss Gräfenberg's hand went up to cover a laugh at my expense. Then we walked to the desk.
It was no surprise that the guy on the desk ignored me and chose to deal with the moneyed customer. A half-hour rooting through a fire-damaged building and Miss G looked like she was ready for an afternoon cocktail party. I looked like I'd been on the toot with John Barrymore for a week.
'I'll need a suite.' She said.
I couldn't remember the last time I'd seen Benjamin Franklin's face on a bill. He didn't look lonely in Eleanor's purse. The hundred dollars did not spend long on the polished mahogany of the reception desk.
'Well, I think we have something suitable, it is very late, however. We can offer no room service.
'That will be fine, I'm here to sleep.'
'Are there any other bags?'
The guy managed a look all the way down his nose at my carpetbag. I felt like taking a gun out of it and ramming it up his snoot.
Miss G shook her head.
'I expect the … gentleman can manage his own bag. It will be the penthouse suite. 10 o'clock would be a good time to take breakfast and check out, with me. My name is Rozh-air.'
I would have bet the rest of Miss G's Franklins that his name was Roger Gumm from Poughkeepsie and not a Rozh-air of any kind at all.
She took the room key and headed for the Elevator. I followed along like Rin Tin Tin.
We didn't talk in the elevator car. When it reached our floor the elevator operator held up a white-gloved palm to refuse a tip.
'You with Fisher, Miss. Tommy Jefferson's ma cousin.'
Miss G insisted, 'But not mine.'
'What's your name, son?' I could see a likeness, maybe.
The young man rolled his eyes.
'Andrew Jackson, Mr Fisher.'
I rolled mine too. 'Know my first name?'
He laughed and it was a joyful sound, I guess.
'Shore! You Micawber Fisher.'
We arranged for Andrew Jackson to get us some ice to go in the drinks that I was going to mix as soon as Miss Gräfenberg opened the door to our suite.
'Five minutes. Mr Fisher. I'll hold the car while I deliver.'
'Take the money then,' I said. So he did.