The Picture Ranch 33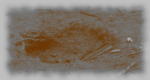 Mon, 17 Jul 2017
The last newspaper I picked up left just a half-dozen in the pile. I held it up so Miss G could see the headline. She took it without snatching too hard and started to pore over it, sweeping the flash-light across and down.
'Does it say who the white guy is?'
She looked up, 'Why would I care about that?'
'You got the date, right? August 6th '26'
'I know the damn' date, Fisher.'
The paper rustled as she tried to flick through some pages and hold the light at the same time.
'Shove it in your bag, Mr Fisher. I don't feel Mr McCarthy will miss one copy of the Eagle".
I did and we breezed out carried on our way by an airy wave from the moonstruck Mr Ephraim McCarthy who would have let us leave with a wheelbarrow full of Hearst's Finest in similar peace of mind.
Miss Grafenberg whistled up a cab. I wondered which of her many talents I hadn't yet discovered.
'You go out of town, Mister?'
'- pends. You pay both ways, whether I wait or not.'
'I'll make it worth your while.'
We left some rubber on the black-top and I thought the girl just couldn't help it.
By the time we reached Encino, I'd decided that we were on our way to RKO, but I was wrong. Miss G, who had spent the drive tracing every widow and orphan on the faded type-set print of the California Eagle, directed the driver up a familiar unincorporated road. The chaparral on the high bluff looked more familiar still and the only things missing this time were my hat and Boethius.
We got out of the cab. The driver asked if he should turn off his engine. I shrugged. Miss G gave him the high-sign and he killed the motor. Then he fell asleep.
'Recognise it?'
'Sure, I came out here with Boethius. Somewhere quiet for a private conversation.'
She held up the photograph of the guy holding up the California Eagle, back in the summer of '26.
'How about now?'
'So what?` I said.
She nodded at the carpet-bag I'd dropped in the dirt, rather than leave it in a cab with or without its motor running.
'Get the paper out. Hold it like the guy in the photo.'
I took out the paper, pocketed a pistol and said, 'Now what?'
'Move over there. Keep the sun in front. Walk backwards'
Miss Grafenberg had her forefingers and thumbs making a camera frame and was sucking in breaths and tutting, until she said 'Stop!'
'Step to your left a coupla yards. Hold the paper up, Fisher, so I can't see your face.'
A minute later I heard a 'pop'. Eleanor Grafenberg backed away from the open window and there was a bullet-hole in the driver's forehead. My client was pointing a purse-pistol at me,
'Don't move, Fisher. That's where you're going to dig. Take your coat off, You don't want to get overheated, now do you? '
She walked over bent down and picked up my suit-coat. There was no time to move before my own pistol was pointing at me.
'Start digging.'
'With what?'
'You got hands, Fisher. You won't be digging far.'
The dirt wasn't hard packed and had been recently dug up. It came up easy, for about an hour, until it didn't.
She waved the pistol. 'Move away from the hole.'
There was nothing in it. I had made a hole about 3 feet square. Not big enough for a grave, if you were thinking of laying the corpse out nice.
'What did you find in the paper?'
'Nothing,' she said. 'Nothing at all.'
'Now what?'
She pointed the pistol barrel into the hole. 'Reckon you'll fit in there?'
'I might, if I was 6 inches shorter.'
'Good job the driver is, Mr Fisher. Put him in and cover him up. Then you can drive me home.'